Oscar nominee Naomie Harris calls the anti-immigrant sentiment in US and UK "madness"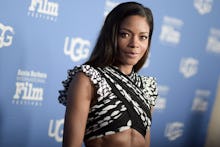 Naomie Harris is not down with hating on immigrants.
In the first two weeks of Donald Trump's presidency, he signed executive orders instituting a de facto Muslim ban and advancing plans to build a border wall between the United States and Mexico. In an interview with the Cut, Harris slammed the anti-immigrant sentiment that currently exists both in the U.S. and across the pond in the United Kingdom. 
Harris, the child of a Jamaican mother who lived in Britain and a Trinidadian father, said she is "massively" worried about the xenophobic rhetoric she's heard from people on both sides of the Atlantic Ocean. 
Harris said the anti-immigrant sentiment worries her because both countries' foundations, particularly America's, are "based on immigration." 
"Britain wouldn't be the country it is without immigration," the Oscar nominee said. "So it's madness. It just seems so retrograde to talk about these ideas now, at a time when the world is just becoming smaller and more interconnected." 
Trump's executive orders on immigration were in step with anti-immigrant rhetoric of his campaign, which stretched through 2015 and 2016. At the same time, the U.K. went through its infamous #Brexit, a political move fueled by nationalism that eventually became a #Regrexit. 
As the U.S. enters its third straight week of protesting Trump's xenophobic executive orders, Harris warned that the clock might be turning back a bit too far. 
"And now, to want to take a step backward, almost to the dark ages, where, you know, 'We want monocultures and mono-races,' it just seems really … yeah, regressive," she said. "And very sad."