'Fire Emblem Heroes' Update: Rumors hint at what's to come, but they may be false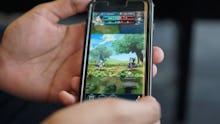 If you're a Nintendo fan, Fire Emblem Heroes is almost definitely eating up a chunk of your free time. The game launched for iOS and Android on Feb. 2, but fans are already looking for future updates to the app. Nintendo hasn't confirmed anything yet, but rumors suggest a Fire Emblem Heroes update could be on the way soon.
Fire Emblem Heroes Update Rumors: Who says a new version is on the way?
The latest rumors on Fire Emblem Heroes come from the game's subreddit, where fans have congregated to swap tips and show off their progress. According to a post by Reddit user Mikekun, chatting with the Fire Emblem Heroes Facebook account led to some information surrounding what's in the pipeline for the app.
Mikekun's question is in regards to a Fire Emblem Heroes update resolving several error codes plaguing the game. The error results in the app crashing, leading to potential data loss. A similar response was garnered from forum poster Y-Assassin — in their screenshot, which omits "To" and "From" info, the body of the email claims the following:
Before you get too excited, here's why were still suspicious that a bug-fixing Fire Emblem Heroes update could be on the way.
Fire Emblem Heroes Update Rumors: Not so fast, internet
As mentioned before, the email regarding the rumored Fire Emblem Heroes update includes no information surrounding who the sender really is; Y-Assassin could have very easily emailed themselves that exact message. But the more damning evidence comes from the Facebook leak shared on Reddit.
This Fire Emblem Heroes Facebook fan group does not sport the official blue verified checkmark, unlike the official Fire Emblem Facebook group. Further down in Mikekun's post, the group's purported owner even chimes in to dispel what their former fellow admin messaged Mikekun:
Hey all I'm the owner of the page. Firstly I have removed the admin who was replying to messages.
With the Fire Emblem Heroes Facebook group being fan-owned, they obviously have markedly less information about any upcoming updates than the official Facebook page would. 
That isn't to say an update for the iOS and Android game isn't on the way at all. If Pokémon Go and Super Mario Run has shown us anything, it's that these mobile titles are continually updated with new features and events for players to engage in. Fans should still look forward to actual Fire Emblem Heroes updates — but for now we don't know when the first patch will arrive.
See more Fire Emblem news and guides here
Check out more of Mic's Fire Emblem coverage, including what to expect from the FE: Heroes app, what we saw during the Fire Emblem Direct announcement and the announcement event itself. And check out our guides including the summoning guide, learning about the upgrade castle and learning more about the characters.