What is Accession Day? 5 things to know about Queen Elizabeth's anniversary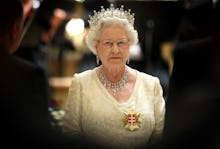 The 65th anniversary of Queen Elizabeth II's reign is celebrated Feb. 6. Honoring the anniversary of the day she took the throne, the event also marks another milestone: The 90-year-old queen is the only British royal to celebrate a Sapphire Jubilee. 
No party planned 
The queen is expected to spend the day at her Sandringham Estate in Norfolk, with no official engagements scheduled. 
But the event was observed in the United Kingdom with various gun salutes, and the Royal Mint released specially designed Sapphire Jubilee coins. Produced in a variety of metals and designs, they cost between £13 and £500.
Marking the occasion 
In honor of the occasion, the royal family re-released a portrait taken in 2014 by David Bailey, which showed the Queen dressed in sapphire jewelry. The gemstones had been given to her by King George VI as a wedding gift for her Nov. 20, 1947 ceremony.
An interest in the life of the monarch has recently been revived by the Netflix series The Crown, which chronicles young Queen Elizabeth's ascension to the throne. 
She has recently begun delegating more of her duties to her son, Prince Charles, and her grandchildren, Prince William and Prince Harry, as well as William's wife, Kate Middleton. But the queen has maintained a busy schedule of public appearances. 
A somber anniversary 
Along with celebrating the day that Queen Elizabeth took the throne, Feb. 6 also marks the death of her father, King George VI, who passed away in his sleep in 1952. Following her father's death, Queen Elizabeth took the throne at age 25. 
On Sept. 9, 2015, she became the longest-reigning monarch in British history, exceeding the previously held record of 63 years and 216 days, set by her great-great grandmother, Queen Victoria. Queen Elizabeth has been the oldest monarch in the world since the 2015 death of Saudi Arabia's King Abdullah, who died at age 90.
More celebrations to come 
On April 21, Queen Elizabeth will celebrate her 91st birthday. 
Mic has ongoing coverage of the royal family. Please follow our main royal family hub here.