North Dakota lawmakers say women should make husbands breakfast in bed on Sunday mornings, not shop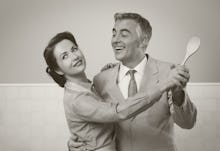 Two male lawmakers in North Dakota have a few thoughts about how a woman might best spend her downtime: Preparing meals for her husband to consume upon awakening from restful slumber — and definitely not spending all his hard-earned dollars.  
Defending North Dakota's blue law, which keeps businesses shuttered until noon on Sundays, Rep. Bernie Satrom on Wednesday suggested a few ways people could fill those idle mornings. 
"Spending time with your wife, your husband," Satrom said, according to Valley News Live. "Making him breakfast, bringing it to him and then after that, go take your kids for a walk."
"I don't know about you but my wife has no problem spending everything I earn in six-and-a-half days," Rep. Vernon Laning added. "And I don't think it hurts at all to have a half day off."
Did they really just say that? Reached by phone on Monday, Satrom acknowledged that his statement "comes across as being very sexist." 
He stressed, though, that his words had been "misquoted and taken out of context" — that he had said "'em," not "him," and that he had been talking to a room of mostly men. (Indeed, the North Dakota House of Representatives is 82% male.) Satrom also said he does not personally view the breakfast-making as solely a woman's duty, and that he makes his wife breakfast in bed every weekend. 
"We really need strong families, and we need families supporting each other more than ever," he added. "And my whole thing I was trying to do was encourage people to love each other and spend time with their families."
Satrom said that "multiple Democrats and several women" approached him to express their appreciation for his sentiment. 
In an email, Laning agreed that his colleagues — who, again, are mostly men — did not seem offended. 
"To the contrary," he wrote, "they all laughed at it" — as did his wife of 46 years. As such, Laning has not apologized and does not plan to. He took a pragmatic approach in explaining his statement:
It was intended to be a humorous argument against those that stated the additional hours of shopping would enhance business with more shopping. People would still have the same amount of dollars to spend during the week. They would simply have a couple more hours to spend the same amount of money. I would prefer workers could at least have one four-hour period per week to attend church or rest.
"In retrospect, I should have stated, 'our money' instead of my money, but I doubt it would have made that much difference," he added. 
For some women, though, the words made all the difference. As one Twitter user pointed out, regardless of the legislator's intent, Laning's reasoning assumes that women don't have incomes of their own. 
In 2017, it's far from a given that women will have husbands and children, or that they would have weekend mornings free for pancake-making. Which is why, whether or not they were made in jest, the comments upset some North Dakota women. 
"It's frustrating personally because when you know those are the people representing you and you don't feel like you're being represented and those kind of backwards ways of thinking are still present," Sarah Cramer, a Fargo resident, told Valley News Live. "It's really, it's upsetting."