'Jane the Virgin' actor Jaime Camil talks Latino stereotypes and Mexican cinema in the era of Trump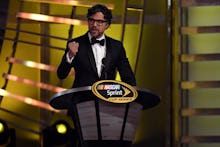 It's easy to say that 2017 has already been a landmark year for Jane the Virgin. Shall we count the ways? 1. Actress Gina Rodriguez, who plays the titular character, was up for a Golden Globe. 2. The show's highly anticipated midseason premiere aired on Jan. 23. 3. The telenovela was renewed for season four. Oh, and 4. A major character died. It has been a banner year and February has barely begun. 
While Jane has been championed for its strong Latino showing, Jaime Camil, who plays Jane's father Rogelio, believes there's more to its popularity than that. In a phone interview shortly after the season four announcement, Camil said that he's proud of the show for capturing the full scope of the human experience. There are laughs and there are tears and that's what makes it relatable — regardless of your cultural background. 
Human characters
Camil appreciates that Rogelio is the "comic relief of the show" because "playing the comic relief gives you extra points." 
"The audience loves to laugh at the one-liners written for him," he sa. But he adds that Rogelio is a "very well-balanced character. He's not just a clown who will throw pies at your face."
Even in the sometimes fantastical world of Jane, Rogelio's character is nuanced — and never a Latino stereotype.
"Jane the Virgin portrays Latinos with a lot of respect," Camil said. "Just because we're Latinos doesn't mean we need to have hot pink houses and piñatas and shout things like, 'Tacos! Fiestas!' We're a powerful Latino cast, the characters are humans and the show is written for a mainstream market."
Camil finds Rogelio's relationship with Jane particularly nuanced. He is not a traditional Latino father. Though he did not raise Jane (or know that she existed), he is eager to get to know her. He also has no issue with showing emotion. 
"Rogelio's version of fatherhood is not very common," Camil said. "But his love for Jane is the love that a father has for his daughter.
"Every character on Jane comes from a sincere and honest place."
Camil considers that honesty a boon to the show.
"The success of Jane is that it's about human beings, not necessarily a surging demographic," Camil said. "It's by human beings, for human beings, not just [people of] a certain ethnicity."
A Mexican strength
On the note of Latino stereotypes, Camil wants Americans to know something about Mexican cinema: It's a force to be reckoned with. While Camil has acted in his share of Mexican sitcoms, he's had far more film roles (and his true passion lies in musical theater; see his recent Broadway credit in Chicago). Film is where he sees Mexico excelling.
"We're great at movie-making," he said. "We have great, great exports in the film industry: Gael García Bernal, Diego Luna. That's Mexico."
The Mexican film Amores Perros, which starred Bernal, received nods from the Academy Awards, Golden Globes, BAFTA Awards and the AFI Fest. Another Mexican film, Y Tu Mamá También, which starred both Bernal and Luna, also received critical acclaim. In addition, Mexico has its own Golden Age of cinema that's often celebrated in the Spanish-speaking world.
"You don't have to portray Mexicans as nannies or gardeners," Camil said. "We are not rapists or drug dealers. Mexico is cosmopolitan and our films show that."
Camil makes this comment well-aware of the statements Donald Trump has made about Mexicans, as well as the actions that his administration has thus far made against immigrants.
"Jane presents real issues in a light, and at the same time serious, kind of way," Camil said. "It does not look away. It looks those issues straight in the eyes — like the new president. It's like Jane is saying, 'It's OK to talk about this and confront it.' But Jane does it with the lighthearted tone of Jane."
One example of Jane tackling a tough issue was in "Chapter 46," when viewers learned that Xo, Jane's mother, had an abortion. In a pre-election interview, Jane's showrunner, Jennie Snyder Urman, implied to Entertainment Weekly that Trump's pussy-grabbing audio leak influenced rewrites. 
Jane hasn't just explored issues of consent and reproductive rights; it's also dealt quite literally with immigration reform. Fans know that Alba was undocumented for more than 40 years. "Chapter 27," in season two, focused explicitly on Alba's application process for U.S. citizenship. That episode aired a whole year before the 2016 presidential election, but it's still relevant. After all, isn't Alba exactly the kind of immigrant Trump wants to deport?
Since the presidential election, the National Hispanic Leadership Agenda, a coalition of about 40 Latino organizations, has issued several press releases opposing the Trump administration. The first one came on Nov. 10 and was titled, "Latino Leaders Call on the New Administration to Break from Hateful Rhetoric and Incorporate Latino Priorities." Other NHLA press releases have stated Hispanic unity with Muslims and condemned executive orders calling for a border wall. Another pointed out that Trump failed to nominate any Latinos to his Cabinet — the first such presidential oversight since 1988. Most recently, the NHLA voiced opposition toward the confirmation of Betsy DeVos as U.S. secretary of education.
Despite living in the U.S. under Trump, Camil has no plans to leave the country — even if it means returning to the Mexican film industry. It will depend on the opportunities that come to him. Right now, he's pleased to work on Jane the Virgin.
"I'm happy to be on the list of employed actors in Los Angeles," Camil jokes. "To act in a show that's a critics' sweetheart is just the cherry on top of the cake."
Thanks to shows like Jane the Virgin and One Day at a Time, Latino representation is finally beginning to reflect reality. (Though we desperately need to revive Cristela.)
New episodes of Jane the Virgin air Mondays on The CW at 9 p.m. Eastern.
Mic has ongoing Jane the Virgin coverage. Please follow our main Jane the Virgin hub here.