How the fashion world is clapping back at Donald Trump's "Make America Great Again" hat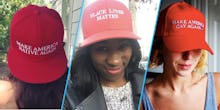 A red baseball hat used to be a red baseball hat — but no more. Because of President Donald Trump, it's now something else entirely. 
Though it's small, with even tinier lettering, the Make America Great Again hat has become a powerful and effective signal for Trump supports the world over. Depending on who you are, the hat could make you feel different things: Enthused. Threatened. Amused. Skeptical. Thrilled. Annoyed.
As a result of the hat's spike in popularity before the election, many artists and designers found an interesting way to subvert Trump's intended message. 
With the whole power of subversion lying in taking the spirit of a statement and flipping it on its head, with a few chosen words, the Make America Great Again hat went from cutting down some of America's core qualities — like hope and an open door to immigrants and refugees — to celebrating them. 
Take Make American Native Again, for instance, a hat made in response to MAGA that's grown in popularity, even among celebrities. 
According to its creator, Navajo artist Vanessa Bowen, the hat was made to draw attention to the problematic history of Trump's slogan and celebrate the real roots of America. 
"When Donald Trump says, 'Make America Great Again,' what time period is he talking about?" Bowen told ABC News. "A lot of people overlook that America's history has been built upon injustice against other racial groups, including Native American people."
While Trump's message of making America great again was rooted in the idea of a more conservative America, Bowen's message of making America native again evokes respecting and valuing nature and women. 
"It means going back to learning sustainability and learning to live in harmony with the environment," Bowen told ABC News. "It means going back to a matriarchal society in which we value and respect our women. It means going back to a sense of unity and community in which we nurture and care for each other rather than tear apart and divide each other."
In this case, MAGA is being flipped on its head. 
The same goes for artist Emma Tolkin's Black Lives Matter red hat, designed to look just like the MAGA hat too. 
According to Tolkin, she made the hats for her and her friend Bridget Todd after joking about it online. Then Todd posted a picture of herself in the hat on Twitter — and it went viral. 
As a result, Tolkin set up her own site and in the past two weeks, she's sold more than 100 hats. 
The real mission here, according to Tolkin, is to do something that'd make Donald Trump and his supporters mad, and also give back, with at least $10 from each hat going to organizations like the NAACP Legal Defense Fund and the National Network of Abortion Funds.  
"Trump is just like this oozing faberge egg of a human being and being able to just fuck with him and maybe make him angry is so easy and so important," Tolkin said in an interview. "We're taking his slogan and turning it into a rallying cry for our own passions, like human rights." 
As far as why the hat has been such a brilliant canvas for this sort of action, Tolkin blames its simplicity. "It's so easy," Tolkin said. "It's a screaming neon canvas with foghorns playing. It's somehow both very distinctly and easily recognizable so it can be lampooned and fucked with without losing the original reference at all." 
There's also the element of surprise here. People from far away might think people like Tolkin and Todd are Trump supporters, then find out the exact opposite. That's what makes it fun. 
And for Todd on inauguration weekend in Washington, that was certainly the case.
"Many Trump supporters were very excited to see a black woman wearing what they thought was a Make America Great again hat around the inauguration festivities," Todd said. "When they realized the hat actually said Black Lives Matter their tune changed pretty quickly. I really enjoy subverting the expectations of these people and making them them about how their support for Trump might play for a black woman like myself." 
Although all of these hats are different, there is a common thread: The rights and issues brought up with most of these hats happen to be the rights and issues people feel are in peril right now with Trump in the White House. 
The Human Rights Campaign, for instance, has its own Make America Gay Again and Make America LGBTQ Again hats, with profits going back to the HRC to fight for LGBTQ equality. 
Then there's the Make America Read Again hats, which are sold by the Strand bookstore because "reading increases empathy, chills you out, keeps your brain sharp and can even help fight prejudice." 
And there's Make Racism Wrong Again hats and Make Racists Afraid Again hats, which are pretty self-explanatory. 
Have there been sillier ones? Sure, like this Make Fashion Week Great Again hat, which the team over at Fashionista made as a bit of a joke ahead of New York Fashion Week in January 2016. 
"We made them as a joke (of course) when it was still funny/before Donald Trump became the official Republican candidate," Fashionista's editor-in-chief, Alyssa Vingan Klein, said in an interview. "We initially made them as a NYFW morale booster for our team, but they were so popular on social media we had another run made which arrived in mid-summer." 
Now, of course, the joke has worn off. 
"[It was] our tongue-in-cheek way to join the conversation and rally the industry was through these hats, which tied seamlessly into both pop culture and politics," Vingan Klein sad. "However, in the wake of the election, no one on staff finds them to be so funny anymore." 
But for the more political hats, the end to wearing them is nowhere in sight, what with marches and rallies to attend. As Tolkin said, she expects fashion to continue to be used as an act of resistance. 
"I think we'll have endless fodder," Tolkin said. "There's something new every day and people can proudly display their thoughts. Whether it's a hat or a shirt or a mug, it's really important to keep doing it and I think people will. I was happily surprised by the fact that people aren't backing down yet. I think it's been incredible to see that people are really just not giving the fuck up in resistance."
Although the election is over, don't expect for these hats or political apparel to go away any time soon.