Google Pixel 2 Release Date: Everything we know so far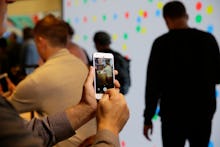 After releasing the Pixel and Pixel XL in 2016, Google is reportedly working on the next Pixel device. There is no set release date for the next Pixel, but the Mirror reports the device will likely debut in October to compete with the next-gen iPhone.
According to 9to5Google, which cited an anonymous source, Google is working on creating a lower-end Pixel, dubbed "Pixel 2B," that would boast fewer features but also come at a significantly lower price point. The Pixel 2B's exact price has not been revealed, although it is said to be "significantly cheaper," but the Pixel 2 may come with a $50 price hike. The current 32GB Pixel smartphone starts at $650.
One feature that made the Pixel phones stand out is the camera — the Pixel has a 12.3-megapixel rear camera. But 9to5Google said the new device will "not have large MP size" and will "compensate in extra features." Google is also reportedly focusing on the device's camera — the current smartphone's camera has been well reviewed across the board — and hopes to "master" low light photography.
When Google released the Pixel devices, they came equipped with the most up-to-date Android operating system: Android Nougat 7.0. It is likely the company will do the same with the Pixel 2 and have the Android 8.0 operating system already installed on the device.
Pixel 2 will be faster and stronger, CNET reported. Google is experimenting with three new processors for the new smartphone: one from Qualcomm, one from Intel and one from Taiwanese chipset manufacturer MediaTek. A waterproofing feature is also "still on the table" for the Google Pixel 2.
All this being said, nothing is official until Google makes its announcement later in 2017.