Syrian refugee in Germany sues Facebook over fake news posts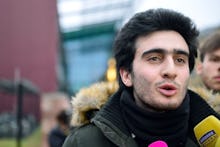 In 2015, Anas Modamani probably never imagined a jubilant selfie he took with German Chancellor Angela Merkel in celebration of her decision to admit scores of refugees into the country might be used for evil. 
But after Facebook users decided to do what they do best — ruin a good thing — and attach his image to "fake news" reports linking him to terrorism, Modamani decided to take legal action against the social media giant, the New York Times reports.
Modamani, 19, arrived in Germany as a refugee from Syria in 2015. It was the same year that Merkel suddenly softened her position on refugees, declaring the German borders open to all Syrian asylum seekers. 
In his lawsuit, which went to court on Monday, Modamani has a straightforward request: He wants Facebook to remove any likeness of him, or any altered version of it, linking him to terrorism.
But according to Facebook, it's not that simple.
The tech giant has countered that it has always complied with requests to remove any images flagged by Modamani and his lawyer, Chan-jo Jun. But any posts that aren't flagged — some of which, Modamani claims, have gone so far as to link him to the deadly 2016 terror attacks in Belgium and on a Christmas market in Berlin — will remain up, Facebook says.
"Facebook only deletes those URLs that are pointed out to them in written form," Jun said, according to the Washington Post. "We are fighting for all reposts to be deleted."
On Monday, Judge Volkmar Seipel said that although the court was potentially not equipped to answer the high-level questions the case raised with regard to personal rights online, a ruling is expected on March 3. 
After nearly two hours of arguments, Seipel also suggested Facebook settle the case immediately by paying Modamani for damages incurred. Both sides refused the compromise.
As the Times notes, this is only the latest in a series of headaches for Facebook. In Ireland, the company faces charges that it improperly handled users' digital data. And in the United States, it has weathered sharp criticism that its dissemination of so-called "fake news" played a role in influencing the outcome of the 2016 presidential election.