This show at Copenhagen Fashion Week took a very dark turn with figures posed on stage with nooses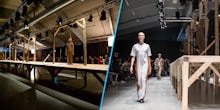 At Han Kjøbenhavn's show at Copenhagen Fashion Week on Wednesday, models walked the runway in jackets stitched with puppy dog motifs, leather pants and tweed. But even this strange combination of fashions couldn't draw the eye from the truly strange — disturbing, even — thing that was happening in the middle of the runway. 
On a platform that rose higher than the models, human-like dummies stood silently with nooses around their necks and their heads covered in bags, with one figure wearing a rat mask. 
It was bizarre, deeply ominous and not even the end of it. At the end of the show, the figures were hanged with the models watching on. 
You can watch video of it below, but viewer discretion is advised. 
Stunts at fashion shows are nothing new. Designers have turned their models into chess pieces or taken their shows to the Great Wall of China in order to make things more interesting — and make headlines. 
But at Han Kjøbenhavn's show, the stunt took things much too far, nearly glamorizing suicide. 
According to Hypebeast, the show itself was called "men with dogs killing rats" and the designer, Jannik Wikkelsø Davidsen, drew inspiration from "those stories you heard in your life when you're growing up. In the collection you have the man represented through all the tweed, you have the hard work shown through the dogs and rat embodied by itself — so this is the rats taking revenge." 
But does anyone really want to watch people get hanged at a fashion show? 
On social media, the overwhelming reaction to the show is, pardon our French: "What the fuck?"
When Han Kjøbenhavn's Instagram posted a picture of the figures with the nooses, that was nearly everyone's response. 
For one, the images themselves could be triggering. For two, this is basically using suicide and death as a stunt. 
Mic has reached out to Han Kjøbenhavn for comment.