National Cherry Pie Day 2017: 9 very cherry recipes to celebrate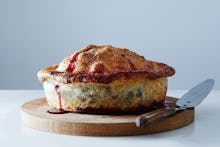 "I cannot tell a lie," President George Washington once famously declared. 
Or could he? The folkloric tale of a young Washington chopping down his father's cherry tree with a hatchet may be completely presidential fan fiction, rather than truth (the first alternative fact?), but the image of a cherry tree has stuck with America as a symbol of juvenile honor and honesty. 
So as we memorialize the accomplishments of presidents like Honest Abe and Washington, on a holiday during their birthday month, celebrate with a sugary symbol of integrity and ethics: the cherry pie. We need it. 
National Cherry Pie Day also happens to be Feb. 20 — so you have no excuse not to celebrate! 
Cherry pie with fresh filling
If you're in the mood to pit some cherries — it can be therapeutic, really — this pie is for you. Get the recipe here. 
Skillet cherry pie 
This recipe calls for pre-made dough, which is an easy shortcut, but baking the pie in a skillet still gives it that rustic, homemade flair. Get the recipe here. 
Cherry cheesecake dip with pie crust sticks
If baking an entire pie sounds too daunting, go with this mix-and-dip method. Get the recipe here. 
Tart cherry pie
The best part of a tart cherry pie is that there's no excuse not to add ice cream for extra sweetness. Get the recipe here. 
Chocolate cherry pie with chocolate pie dough
Speaking of honesty, this pie is so decadent you'll wonder why you ever went the non-chocolate route when it came to cherries. Sharing is optional, but not encouraged. Get the recipe here. 
Rustic balsamic cherry and basil galette
We get it, you're fancy, so make this pie to outshine all the others on National Cherry Pie Day. Get the recipe here. 
Easy cherry puff pastry tart
If your baking ability peaks at making toast, this pie-like recipe was designed for you. Get the recipe here. 
Deep-dish cherry pie
If you like a super high filling to crust ratio, this majorly stuffed cherry pie is the pie for you. And all of us. Get the recipe here. 
Cherry almond torte
Almond flour adds extra flavor (and protein!) to this pie crust. Get the recipe here.