Donald Trump not welcome in UK, House of Commons speaker John Bercow says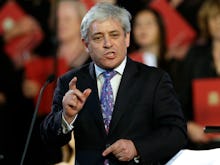 The United Kingdom's speaker of the House of Commons, John Bercow, said on Monday he will block any attempt by U.S. President Donald Trump to address the U.K.'s parliament.
While Conservative Party leader and Prime Minister Theresa May had invited Trump to the U.K. to speak, Bercow said as far as he is concerned, Trump's executive order temporarily banning all refugees and nationals of seven Muslim-majority countries was a disqualifying factor.
"Before the imposition of the migrant ban I would myself have been strongly opposed to an address by President Trump in Westminster Hall," Bercow told legislators, Bloomberg reported. "After the imposition of the migrant ban by President Trump I'm even more strongly opposed ... I feel very strongly our opposition to racism and to sexism and our support for equality before the law and an independent judiciary are hugely important considerations in the House of Commons."
According to BBC, while Bercow's comments are an "unprecedented and extraordinary rebuke," the final matter of whether Trump is invited will come down to debates in Parliament scheduled for later this month.