At the last minute, the Justice Dept. moved to defend Trump's ban — here are the takeaways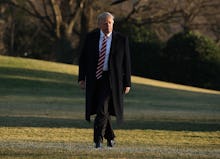 With minutes to spare, the Donald Trump administration made its case as to why the immigration ban the president put in place two weeks ago is legal and should be reinstated. The brief, filed with the 9th Circuit Court of Appeals headquartered in San Francisco, said Trump has the authority to ban immigrants and refugees from entering the United States. 
The Justice Department's late Monday filing contended the Friday night order from a federal judge in Seattle should not be enforced to stay Trump's immigration order nationally. 
"The Executive Order is a lawful exercise of the president's authority over the entry of aliens into the United States and the admission of refugees," the brief states. 
The appeals court said Sunday that the Friday judicial decision would hold until the administration's now-filed appeal could be reviewed by the court. A decision on the brief filed Monday night could come as soon as this week. 
This gives people with valid visas a narrow window of time to enter the U.S. while Trump's ban on immigration from seven countries with large Muslim populations is on hold. On Twitter, Trump blasted the judge who issued a stay on Trump's ban. 
The Trump administration claimed the executive order is "neutral with respect to religion," writing in the brief the seven countries in the ban were "identified by Congress and the Executive Branch as being associated with a heightened risk of terrorism."
The administration added the stay is "vastly overbroad," and the executive order did not apply to green card holders or "other nationals from the seven identified countries who were previously admitted to the United States and are either temporarily abroad or are here now and wish to travel outside this country."
However, multiple green card and visa holders who were traveling outside the country were detained and at least one was deported after the executive order went into place.
This brief said Trump's ban should be reinstated while courts litigate the legality of the president's immigration order. Whether Trump acted within his power will likely be determined by the Supreme Court, but the 4-4 split of liberal and conservative justices there means this appeals court ruling could determine the national outcome.
— Emily Singer contributed reporting.