Alex Jones might be behind Donald Trump's claim the media is covering up terrorism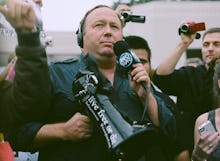 President Donald Trump floated a tough-to-believe claim Monday: The U.S. media has attempted to cover up a series of terror attacks by not reporting on them as part of a broader overall effort to minimize the threat posted by "radical Islamic terrorists."
"It's happening," Trump told military leaders Monday at MacDill Air Force Base in Tampa, Florida. "It's gotten to a point where it's not even being reported, and in many cases the very, very dishonest press doesn't want to report it. They have their reasons and you understand them."
Trump did not elaborate on which terror attacks the media had not reported. But as the Washington Post reported Monday, Trump may have sourced the claim from the right-wing website InfoWars, which along with its founder, Alex Jones, is perhaps most famous for promoting unfounded conspiracy theories on everything from mass shootings to whether the government puts chemicals in the water which "turn the friggin frogs gay."
Numerous recent headlines on InfoWars included gems like: "SCANDAL: MASS MEDIA COVERS UP TERRORISM TO PROTECT ISLAM"; "GERMANY COVERING UP TERROR PLOTS TO PROTECT MUSLIM MIGRANTS"; and "VIDEO: TERROR IN GERMANY – THE TRUTH THEY HIDE," the Post reported.
In reality, as the World Economic Forum noted, terror in Europe is not at historic highs. Casualties from terror attacks in the years 1990 to 2015 were considerably lower than those from 1970 to 1990. In the United States, a number of high-profile attacks have generated exactly the kind of media coverage Trump insisted wasn't real — and his recent executive order to ban all refugees and nationals from seven Muslim-majority nations would do little to prevent future terrorism.
InfoWars, however, is an institution prone to what Trump adviser Kellyanne Conway might call "alternative facts" and what other people might call lies. In another recent example, Jones recently claimed pop superstar Lady Gaga would perform a "Satanic ritual" during Sunday's Super Bowl halftime show. That's not what happened.