'The Bachelor' 2017: Who did Nick Viall send home in week 6?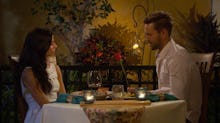 It's that time of the week again, folks! Who's ready to watch Nick Viall stare into the abyss and repeatedly mutter "okay" through 90% of his conversations? I sure am!
This week on the Bachelor, Nick cuts his remaining crop of girlfriends in half: Alexis, Josephine, Jaimi, Jasmine, Whitney and Danielle all go home. Meanwhile, underdog Kristina surges to the front of the pack. Oh, and Nick cries a lot. 
We left off last week on a cliffhanger that was totally not staged, no siree. After getting blessed by some voodoo priestesses, Taylor — who was rejected on last episode's two-on-one date — barges in on Nick and Corinne during dinner. 
Nick, who looks like he'd rather be sucked into the fiery pits of hell than deal with this situation, agrees to talk to Taylor outside. "She's making it look like I bullied her," Taylor insists, adding, "I want you to, like, open your eyeballs, because I'm not the only one saying this about Corinne." 
Ultimately, Nick says his decision to send Taylor home had nothing to do with what Corinne said about her. Sorry, Taylor — Nick just isn't that into you.
Meanwhile, the rest of the ladies arrive at a fancy house for the cocktail party. That's when Chris Harrison crawls out of his hidey hole to make an announcement: There's not going to be a cocktail party this week. Nick knows exactly what he wants to do. 
At the sudden-death rose ceremony, Alexis, Josephine and Jaimi don't get picked. A woman named Whitney — who has never once spoken to Nick —survives another week. I'm sad to see those three women go home, but I'd put money on Alexis, at least, returning for Bachelor in Paradise — dolphin suit and all.
The next stop on Nick's journey to find love is the island of St. Thomas. Buckle up, folks, because Nick hopes this is the week he'll finally start falling in love.
Our Bachelor wastes no time. Seconds after stepping off a sea plane, Nick invites Kristina on a one-on-one date. The two get back on the plane and fly away, leaving the other women dejectedly waving goodbye in their denim cutoffs. Jasmine, in particular, is very upset — she and No Screen Time Whitney are the only two contestants who haven't had private dates with Nick.
Kristina has been mysterious — she's hinted at a dark past but hasn't had the chance to elaborate. Sitting with Nick, she starts to open up about being adopted and having a sister back in Russia, but then it's time to go swimming and do kissing in the water. Nick hopes she'll get around to the rest of that story later!
Back at the hotel, a kind staff member named Lorna arrives to assist the women. For Corinne, it's just like being back home with her nanny, Raquel! How much is Lorna making to fetch Corinne piña coladas and lobster dip? And why are we devoting so much screen time to this terrible plot line? 
Let's get back to Nick and Kristina's date, shall we? Over dinner, Kristina tells Nick her full life story — and wow, it's heavy. She grew up in a small town in Russia with no food in the house, forced to eat lipstick when she was hungry. At five or six, her mom threw her out of the house, and she ended up in an orphanage. At 12, she made the difficult decision to leave Russia for an adoptive family in the U.S.
By the end of the story, Kristina and Nick are both in tears.
"You're a very strong woman," Nick says, offering her a rose. "It's hard not to look at you and admire so many things about you." Did Kristina, the quiet underdog, just score a spot in the final four?
Meanwhile, the group date card arrives at the hotel. Everyone's name is listed except for "Andi" Danielle, the Andi Dorfman look-alike, and no-screen-time Whitney. Are they fated for another two-on-one date?
Before we find out, let's experience the most miserable group date in Bachelor history. Nick and his flock of girlfriends take a catamaran to a beach where they try to play three-on-three volleyball, but let's face it: Everyone's sick and tired of competing with the other women for Nick's attention. Jasmine, in extreme frustration, literally pushes Corinne to the ground.
The date devolves into complete and utter misery. Every woman seems to be in a different part of the beach, privately weeping.
Later that night, the women are still pretty peeved from their crappy beach date. Some of Nick's frontrunners, including Rachel and Vanessa, complain about having to compete for time with him. "What's the point?" asks Rachel, who is a super cool attorney and definitely too good for this show.
But perhaps none are so angry as Jasmine, the only one on the group date who hasn't scored a one-on-one date. Finally, her rage boils over: "I'm going to tell him straight to his face," she says, "don't you dare overlook me."
If you're holding a fork right now please stab it into my eyeball, because the scene that follows is really, really, unbelievably awkward. Fluctuating between laughter and tears, Jasmine asks Nick why he doesn't seem to see her — a valid question! But then, somehow, she reaches for his neck and asks him if he likes being choked — not cool. Weird. Bad. Nick sends Jasmine home.
Nick is bordering on feeling defeated and discouraged, but he still has to get through a two-on-one date with Andi Danielle and No Screen Time Whitney. 
"Whitney and I don't have any animosity between us," Danielle says, confused as to why she's been chosen for the Bachelor's unique form of torture.
The threesome goes to a beach, where Nick has very nice, polite, extremely boring conversations with both women. Everyone has very nice hair! 
Talking with Danielle, Nick realizes something: His relationships with the two women are at very different stages. "I don't want to waste anyone's time," he says. So he marches back to Whitney and breaks up with her.
Nick seems to like Whitney enough, but his relationship with Danielle is simply further along. Whitney stays fairly stone-faced throughout the breakup. Something tells me she'll be fine.
Nick and Danielle proceed to their one-on-one dinner date, where more polite conversation ensues. I don't know what they're talking about, but I know I hear the words "communication" and "honesty," and that it's all mind-numbingly boring. To be honest, I get up and do dishes during this scene. 
But wait — Nick looks sad. Could it be that the Bachelor is as bored as I am? Danielle says she's falling in love with Nick, but he just isn't feeling it back — no matter how hard he tries. That's it for this Andi Dorfman doppelgänger!
Nick says a lot of meaningless words before sending Danielle home: "I think I went into this day hoping and wanting desperately to end today wanting to give you this rose, but I feel like in my heart, I can't." Deep! My guess? Nick wasn't expecting to have such a strong connection with Kristina, and it's putting some of his other relationships into perspective.
There's someone at the door of the women's hotel room. Is it Lorna? Nope, it's Nick! And he's super sad! 
"I want to be honest, and I want to be real with you guys," he says, before telling the women why he said goodbye to Whitney and Danielle. The tears are really flowing! Nick confesses he's scared he's not going to find the right person. 
"I don't know if I can keep doing this — I've got to get going," he says, making for the door.
Nick goes down to the lobby and walks out the front door of the hotel, into the street. The ladies never hear from him again.
Just kidding! The previews for next week promise lots more crying on everyone's part. Stay tuned.