Twitter rolls out new features to silence its most abusive users — finally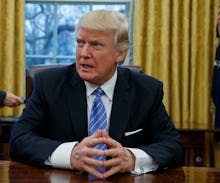 Ed Ho, Twitter's VP of engineering, teased in a thread of tweets (naturally) in January that "making Twitter a safer place is our primary focus and we are now moving with more urgency than ever." On Tuesday, in a blog post, Ho announced three new changes to the platform that aim to make it less of a cesspool of harassment.
Two of these features afford users the ability to navigate the platform with a minimized risk of landing on an abusive landmine. "Safe search" will eliminate any tweets in search results with "potentially sensitive content" as well as tweets from blocked or muted accounts. The team is also rolling out reply threads that prioritize "the most relevant conversations" while collapsing responses that are "potentially abusive and low-quality." For those crying "censorship," the unsavory content will still be available — you just have to opt to see it.
Perhaps most notable, though, is Twitter's announcement that it is going to try and stop abusive users from simply creating new accounts to continue harassing others. 
While the company can't detail exactly how it plans to crack the evil eggs before they hatch, a Twitter spokesperson told Mic in an email that Twitter will be using a variety of signals from all of its accounts in an effort to identify repeat offenders. Once they are confident it is a user who has been permanently suspended, they'll act.
"This focuses more effectively on some of the most prevalent and damaging forms of behavior, particularly accounts that are created only to abuse and harass others," Ho wrote in the blog post.
It's certainly reassuring to see Twitter commit to keeping its most abusive trolls — the ones permanently suspended from the platform — off of the platform for good. That's great news for Gab, a new microblogging platform popular with banned "alt-right" Twitter trolls. And the announcement comes at a time when there has been a rallying cry for Twitter to prove it takes harassment seriously by disciplining one of its most powerful (and active) users: President Donald Trump, who has arguably violated Twitter's hateful-conduct policies. 
In the meantime, you'll soon be able to filter and collapse Trump's abusive followers. And if they misbehave badly enough, they'll (hopefully) find it much more difficult to reincarnate as a Pepe as many times as they please.