Intended target of Yemen raid wasn't killed — and now he's reportedly mocking Trump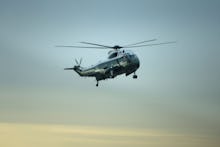 The intended target of a raid on an al Qaeda stronghold in Yemen, which left a U.S. Navy SEAL dead, was not killed in the operation — and is now mocking President Donald Trump, according to NBC News.
Qassim al-Rimi, considered to be one of the world's most dangerous terrorists, survived the raid and has since released an audio recording calling Trump "the fool of the White House."
"The fool of the White House got slapped at the beginning of his road in your lands," al-Rimi said in the recording that was authenticated by military sources.
Despite the limited intelligence, military officials told NBC that the chance to kill al-Rimi made the operation worth the risk.
Thirty civilians, including an 8-year-old girl, were also killed in the strike.
Trump has been criticized for the raid, after it was revealed he approved it with insufficient intelligence. The stronghold was identified as a target under President Obama, who declined to take action until "better intelligence" was gathered, according to a Reuters report.
Col. John Thomas, a U.S. Central Command official, told CNN the Yemen raid "wasn't a high-value target mission" but an intelligence gathering one, and he disputed that al-Rimi was the target. 
"Anyone found on site would have been taken," Thomas told CNN.
White House press secretary Sean Spicer called the raid "a successful operation by all standards."