Trump's Dept. of Labor pick admits to once hiring an undocumented immigrant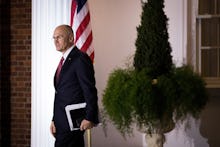 Andrew Puzder, President Donald Trump's pick for secretary of labor, is facing another hurdle in his five-times-delayed confirmation hearing. The Huffington Post reported that Puzder informed Senate and administration officials that he once he once employed an undocumented immigrant as a housekeeper.
Puzder has faced a near-constant battle since his nomination was announced. His confirmation hearing has been delayed five times due to his struggle to divest as CEO of CKE Restaurants, the parent company to restaurant chains Hardee's and Carl's Jr. He's failed to file standard disclosures and questionnaires to the Senate, according to the New York Times. On top of that, Puzder has allegedly abused his wife, opposes raising the minimum wage, called fast food employees "the best of the worst" and defends Carl's Jr.'s notoriously sexist ads as "American."
Employing undocumented workers has destroyed nomination chances in the past: Linda Chavez, George W. Bush's labor nominee, withdrew her nomination after it was revealed that she allowed an undocumented immigrant from Guatemala to live with her, CNN reports. But apparently, transition officials believe the days of "strict ethics" that are a part of the vetting process are long gone: "The view in the transition was that's the old model," a GOP official involved with Puzder's nomination told the Huffington Post.
The Huffington Post reports that, after reaching out to the White House for comment, the request was forwarded to a spokesperson for Puzder, who released the following statement:
My wife and I employed a housekeeper for a few years, during which I was unaware that she was not legally permitted to work in the U.S. When I learned of her status, we immediately ended her employment and offered her assistance in getting legal status. We have fully paid back taxes to the IRS and the State of California and submitted all required paperwork.