Hillary Clinton declares "the future is female" in new video message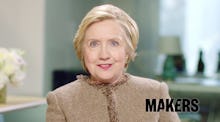 Since her upset loss in the 2016 presidential election, former Democratic candidate Hillary Clinton has kept a relatively low profile, seeming to prefer roaming around in the woods with dogs to cavorting in the eye of the public that scorned her. Relatable!
But in a new video statement created for the launch of this year's Makers Conference, a summit aimed at bringing female leaders together to discuss women's issues, Clinton is back, and — spoiler alert — she's still a feminist.
"Despite all the challenges we face, I remain convinced that, yes, the future is female," she says in the clip. "Just look at the amazing energy we saw last month as women organized a march that galvanized millions of people all over our country and across the world."
In the full video, which can be watched here, Clinton extols the value of strong female leadership — a timely bit of advice for those of us who find ourselves under the thumb of a presidential administration that doesn't care to keep many women in leadership roles, to say the least.
"We need strong women to step up and speak out," she continues. "We need you to dare greatly and lead boldly. So please, set an example for every woman and girl out there who's worried about what the future holds, and wonders whether our rights, opportunities and values will endure."
Clinton concludes the video message with an optimistic nod toward the future: "Remember, you are the heroes and history-makers, the glass ceiling breakers of the future," she says. "As I've said before, I'll say again: Never doubt that you are valuable and powerful and deserving of every chance and opportunity in the world."