'The Vampire Diaries' Series Finale: Nina Dobrev teases closure in final episode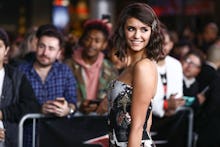 After eight years on the air, the pressure is on for The Vampire Diaries to deliver one hell of a series finale. Fortunately, returning cast member Nina Dobrev thinks the final episode will provide closure for dedicated fans. 
Dobrev played doppelgänger Elena Gilbert for six seasons before departing the CW series in 2015 to pursue other opportunities. The show decided not to kill off Elena, instead placing her in a magically-induced coma linked to her best friend Bonnie. Fans always hoped the way the character was written off would allow Dobrev to reprise her role later down the line, and they eventually got their wish. Dobrev announced on Instagram in January that she would be reprising her role as Elena for the finale.
Filming is now complete, and the actress took to Instagram to share a few more words about the experience with her followers.
"Coming back for the series finale has been a whirlwind of emotion, nostalgia, love, tears of joy and bittersweet endings," she wrote on Instagram. "It feels like the beautiful closure we all needed, myself included, and I couldn't have been happier to come home to be with my TVD set family and friends. I feel the fans family will also be happy with the show's conclusion when they tune in to watch the last episode air in a few short weeks."
Will Elena and Damon finally be reunited? Will Bonnie really have to die? What does a happy ending look like for a bunch of good-hearted but murderous vampires? All those questions will hopefully be answered in the March 10 finale of The Vampire Diaries. 
Check out Nina Dobrev's full note to her fans here.