Stephen Colbert is a "Bowling Green massacre" truther based on Donald Trump's own words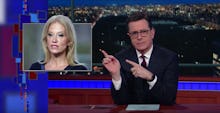 President Donald Trump has made his feelings about the media known throughout his campaign and in the first weeks of his presidency. But even for his high standards, he made an outrageous claim Monday, when he said said the "dishonest press" doesn't want to report major terrorist attacks. 
Wait, is that why we never heard of the "Bowling Green massacre"? 
"It makes perfect sense, you know, the old news adage," The Late Show host Stephen Colbert say on his show Monday. "'If it bleeds, don't talk about it.'"
Colbert is referring to the terrorist attack conjured up by Trump administration adviser Kellyanne Conway during an interview with MSNBC. It was later reported that Conway used the same language to reference the terror attack that never occurred with Cosmopolitan and TMZ — the type of fabrication that feels straight out of George Orwell's 1984. So it was ignored by the media "on the flimsy excuse that there was no Bowling Green Massacre," Colbert says. "But I think we all remember where we weren't were when we didn't hear that nothing had happened." 
But because Trump said the media will fail to ignore terror attacks, Colbert is going full Alex Jones and becoming a Bowling Green truther. The media, Colbert says, needs to present both sides of the story, "the things that did happen and the things that didn't happen." To get to the truth, Colbert suggested that the victims of the Bowling Green massacre speak out so we can really figure out what's going on. 
Unless, it was an inside job! 
"Think about it," Colbert says. "If America isn't going to be attacked, who's most likely not to do it? Us ... I demand that the media not release the reports they did not do on the attacks that did not occur. And I will not rest until they don't. And my sacred promise to you: We will have more on this story, as it doesn't develop." 
Watch the segment below: