Vizio pays $2.2M settlement, agrees to stop snooping on TV viewers: How you can protect your privacy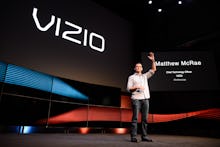 Vizio — a company known for inexpensive smart TVs and other electronics — has settled a $2.2 million lawsuit with the Federal Trade Commission for violating its users' privacy.
Vizio's ambiguously named "smart interactivity" feature tracked, bundled and sold personal data to third-party vendors without consumers' knowledge, according to the FTC. 
This data included "sex, age, income, marital status, household size, education and home ownership," the FTC alleges. 
Notably, while the "smart interactivity" feature was, per Vizio, supposed to "[enable] program offers and suggestions," the FTC notes that viewers didn't report getting any special offers and suggestions through the program. 
As a result of the settlement, Vizio will pay $1.5 million to the FTC, and an additional $700,000 to the state of New Jersey, whose attorney general was a co-complainant on the suit. 
Per the settlement, Vizio will also have to let its customers know more prominently when the data harvesting is going on — and it must also delete most of the data it has collected.
"Vizio has agreed to stop unauthorized tracking, to prominently disclose its TV viewing collection practices and to get consumers' express consent before collecting and sharing viewing information. In addition, the company must delete most of the data it collected and put a privacy program in place that evaluates Vizio's practices and its partners," according to the FTC.
Vizio didn't immediately respond to request for comment about which data its being asked to deleted, and how long the compliance program will take to implement, although its general counsel Jerry Huang issued a statement.
"Vizio is pleased to reach this resolution with the FTC and the New Jersey Division of Consumer Affairs," Huang wrote. "Today, the FTC has made clear that all smart TV makers should get people's consent before collecting and sharing television viewing information and Vizio now is leading the way."
How to protect yourself from digital spying
Luckily, if you're worried about an anonymous marketer discovering your secret affinity for The Bachelor, it's still pretty hard for vendors to get their hands on that type of data.
It is technically illegal for cable and satellite companies to harvest and sell data, Money reports, but — as a TV manufacturer — Vizio has a "legal loophole" to get into this line of business.
The FTC encourages companies to be upfront about their data collection processes, meaning that if you're unclear, you should ask before buying a smart device.
The best way to make sure none of your viewing habits get shared is disabling your internet connection from your TV altogether — but that's probably too extreme a move for you.
At the very least?
Be sure to protect your data with secure, complex passwords, and make use of encryption and search engines that don't track you.
You should always withhold personal data like your birthday — whenever possible — and avoid suspicious emails and offers.
For more tips, check out this Better Business Bureau guide to protecting your smart TV from hacking.
Sign up for The Payoff — your weekly crash course on how to live your best financial life. Additionally, for all your burning money questions, check out Mic's credit, savings, career, investing and health care hubs for more information — that pays off.