Twitter compares Christie Brinkley to Jesus after appearing in 'Sports Illustrated'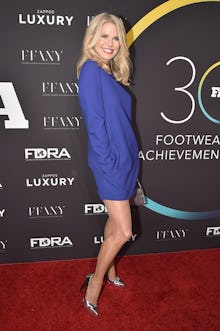 At the age of 63, Christie Brinkley is back in the pages of Sports Illustrated for the magazine's 2017 swimsuit issue. Joined by her daughters Alexa Ray Joel and Sailor Brinkley Cook, they all look incredible. But while Brinkley's return to the magazine is being lauded in general, one of the pictures used in her spread has Twitter comparing her to Jesus Christ. 
Brinkley posted the picture on her Instagram on Monday, making light of the pose that has people talking. In the picture, the supermodel towers over both her daughters, and appears as if she is walking on water. 
"Oh and my kids think I walk on water, so let's not mention the apple box concealed just under the surface," Brinkley wrote in the caption. 
Well, Twitter has taken aim at the picture, and the comparisons to Jesus are endless: 
Some are just confused by it:
Others are crediting her timeless beauty for this impressive, Jesus-like quality:
Since Brinkley can "walk on water" and still slay in a bikini, she took the opportunity to speak to women. "Women feel very limited by their numbers," Brinkley told People. "On a personal level, I thought, if I can pull this off, I think it will help redefine those numbers and remove some of the fear of aging."