David Beckham Email Scandal: What is 'Beckileaks' all about?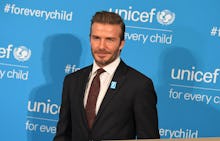 Anybody interested in hearing more about emails? If so, you have come to the right place. David Beckham, the world-renowned footballer (soccer), businessman, fashion icon and husband to Posh Spice, is now embroiled in an email controversy, which the media has dubbed "Beckileaks." The allegedly leaked emails reportedly paint the historically charitable star in an extremely unfavorable light. 
According to the Independent, a website dubbed Football Leaks released emails allegedly from Beckham, which seem to indicate that the international superstar's philanthropy has been for the purpose of attaining knighthood. 
The Star reported that the primary focus of the emails is Beckham's relationship with UNICEF. The Independent elaborated that several European media outlets have seen the emails, which allegedly reveal that Beckham admits his philanthropy was all part of a deliberate effort to become a knight. 
Beckham's spokesperson released the following statement to the Independent: 
This story is based on outdated material taken out of context from hacked and doctored private emails, from a third-party server, and gives a deliberately inaccurate picture. David Beckham and UNICEF have had a powerful partnership in support of children for over 15 years ... David and UNICEF are rightly proud of what they have and will continue to achieve together and are happy to let the facts speak for themselves.
British tabloid the Sun reported that millions of emails and communications have been accessed from an over three-year period. The messages apparently contain several references to Beckham's bid for knighthood. In one of the emails, Beckham allegedly called the United Kingdom's Honours Committee "unappreciative cunts." The athlete also reportedly let his feelings on awards lesser than knighthood known, stating: "Unless it's a knighthood, fuck off."
The email controversy is likely to become an ongoing public relations nightmare for Beckham, who had until this point been well-known for his philanthropic endeavors and partnership with UNICEF. UNICEF released a statement, which in part reads: 
David Beckham has been a UNICEF Goodwill Ambassador since 2005, and as well as generously giving his time, energy and support to help raise awareness and funds for UNICEF's work for children, David has given significant funds personally. The 7 Fund supports programs for children, tackling issues such as malnutrition, violence, AIDS and emergencies. For example, in June 2016 David visited Swaziland to raise awareness of the devastating drought affecting Eastern and Southern Africa, helping UNICEF reach people around the world with important messages about the need for urgent action.