The 10 best Alec Baldwin 'Saturday Night Live' appearances — so far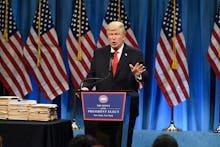 It's hard to believe that it's been over five years since Alec Baldwin actually hosted Saturday Night Live. Between his numerous cameos and, of course, his regular appearances as the comedy show's in-house Donald Trump impersonator, it feels 30 Rockefeller Plaza is the veteran actor's second home.
On Saturday, Baldwin will host SNL for the record-breaking 17th time, having already beaten longtime host Steve Martin's streak of 15 shows back in 2011. The journey to this milestone began way back in 1990, when the Emmy-winning actor hosted the show for the very first time, kicking off 27 years of unforgettable comedy turns.
So before we settle in for Baldwin's latest round of Trump digs — something that will likely set off yet another spate of Twitter anger courtesy of the 45th president of the United States — let's take a look at the actor's 10 best SNL appearances from the past three decades.
10. Alec Baldwin vs. Steve Martin
It's not easy breaking SNL records, especially if you have a legend like Steve Martin nipping at your heels during the home stretch. For years, it really didn't seem like anyone was going to come close to beating Martin as the top venerated guest host — John Goodman, maybe. But all that changed in 2006, when Baldwin tied Martin's record. This rivalry went on to be celebrated in a series of hilarious sketches that saw Martin doing everything in his power to prevent Baldwin from ever hosting SNL more times than him. First Martin tried kidnapping Baldwin, then attempted his colleague's murder the following season.
Finally, in 2011, Martin admitted defeat when Baldwin surpassed his hosting record — but not without forcing his frenemy to submit to a Seth Rogen-approved drug test. 
You can watch this bit on the official SNL site here.  
9.  Tony Bennett impression
Before Baldwin assumed the Donald Trump impersonation mantle from longtime SNL cast member (and current announcer) Darrell Hammond, he had already made his mark on the show as a seasoned impressionist — specifically, with his recurring "Tony Bennett Show" sketch. The actor, donning a giant fake nose and the crooner's distinctive Queens accent, portrayed Bennett as a slightly senile talk show host with a penchant for doing commercials for embarrassing hygiene products (anti-fungal cream, anyone?). Baldwin's impression is funny on its own, but when the actor is paired up with the real Tony Bennett — as he did in a bit from 2006 — you can see why The Departed star has become a permanent fixture on the SNL stage.
You can watch this sketch on the official SNL site here. 
8. A Glengarry Glen Ross Christmas
Baldwin poked fun at his famous single scene from the film Glengarry Glen Ross in this 2005 SNL sketch by taking his frightening motivational speaker out of a real estate office and plunking him down in the middle of Santa's Workshop. This time around, a candy-cane-stockinged Baldwin reads the riot act to a group of befuddled toy-making elves, dangling incentives like "a shiny new toboggan" in front of their pointy-eared heads. (It may not be a Cadillac El Dorado, but one thing's for sure: Even at the North Pole, third prize is "You're fired.") It's a speech that's so familiar, even Baldwin reverts back to its original form at one point: His character is supposed to instruct the elves to "Always Be Cobbling," but Baldwin accidentally says the actual line from Glengarry, "Always Be Closing," at first.
You can watch this sketch on the official SNL site here.
7. Tracy Morgan's return to SNL
One of the more joyous Baldwin SNL cameos came in 2015, when the actor teamed up with his 30 Rock castmates to celebrate Tracy Morgan's return to the comedy stage. In 2014, Morgan was involved in a serious car accident that resulted in a traumatic brain injury. Just one year later, the 30 Rock star came back to his old SNL stomping grounds as host, and he couldn't have asked for a better welcoming committee. Even though 30 Rock had gone off the air two years earlier, Morgan, Baldwin and co-stars Tina Fey, Jane Krakowski and Jack McBrayer slipped back into their characters for an ever-so-brief reunion. Baldwin seamlessly resumed the deadpan delivery of 30 Rock's buffoonish TV exec Jack Donaghy in the opening monologue sketch, reminding us all in the span of just a few minutes why he won two Emmys for the role.
6. Canteen Boy
It's hard to imagine "Canteen Boy Goes Camping" would past muster in 2017, but in 1994, this creepy-yet-can't-look-away sketch helped to solidify Baldwin as an SNL MVP. Baldwin plays a predatory scoutmaster who only has eyes for Adam Sandler's man-child character, Canteen Boy. (For the record, Canteen Boy is supposed to be 27 years old, eliminating any sort of problematic underage issues in the skit.) As a straight-faced Baldwin nuzzles his young charge during a camping trip, it soon becomes clear to Sandler that he is not going to finish this sketch without emitting at least a few giggles.
You can watch this sketch on the official SNL site here.
5. Sarah Palin visits
Another one of Baldwin's more memorable non-hosting cameos (that doesn't involve playing Donald Trump) was when, in 2008, he stopped by the SNL studios and bumped into vice presidential candidate Sarah Palin backstage. Baldwin, spoofing his history as an outspoken Democrat, immediately mistook the Republican governor from Alaska for his 30 Rock co-star Tina Fey (who was onstage impersonating Palin), and proceeded to repeatedly insult John McCain's running mate to her face. Upon learning his mistake, Baldwin smoothly made up for his faux pas by informing Palin that she is "way hotter in person."
You can watch this sketch on the official SNL site here.
4. The tipping monologue
We can only imagine what kind of luxuries Baldwin will be handing out to the cast and crew at his 17th hosting gig if this 1993 bit is any indication. By his third go-around as SNL host, Baldwin was feeling so cocky that he spent his monologue tipping everyone who worked on the show a little bit of cash. This included the control room crew, wardrobe handlers — and even those who really didn't need Baldwin's extra dough, like SNL creator Lorne Michaels and musical guest Paul McCartney.
Fun fact for Beatles fanatics: If you listen closely to the conversation between Michaels and McCartney, you'll notice that they're discussing the moment when, in 1976, the SNL honcho asked the Beatles to reunite for the laughably low sum of $3,000. And how, several months later, McCartney's former bandmate, George Harrison, came to collect.
You can watch this monologue on the official SNL site here.
3. The French teacher
While Baldwin will likely be remembered in the annals of SNL history for his take-no-prisoners skewering of Donald Trump, let's also not forget his willingness to just be tremendously silly, without the need to also be topical. This 1993 sketch saw Baldwin playing an overly enthusiastic French teacher who was far more concerned with his students' vocal inflections than their ability to actually speak the language. Case in point: Adam Sandler's high school student literally speaks gibberish, but since he does so with the appropriate high-pitched tones, Baldwin's Monsieur Nobek deems Sandler's grasp of French to be "magnifique."
You can watch this sketch on the official SNL site here.
2. Donald Trump impression
Even though Melissa McCarthy has likely now edged out Baldwin as the funniest Trump administration impressionist, respect must be paid to the actor's scathing impersonations of the current president. Whether it's bullying Kate McKinnon's beleaguered Hillary Clinton during SNL's restaging of all three presidential debates, or taking orders from the Grim Reaper (aka senior adviser Steve Bannon), Baldwin has provided one of the few clear opportunities to laugh over Trump's presidential win in recent months. In the clip above, from the Jan. 14 episode of SNL, Baldwin spoofs one of Trump's more lascivious scandals by delivering a monologue that brings new meaning to the term "toilet humor."
1. "Schweddy Balls"
Considering this sketch has already made it onto multiple "50 Best SNL Skits" lists (you can read Complex's take on it here and Rolling Stone's here), we'd be remiss if "Schweddy Balls" didn't top our own best-of-Baldwin compilation. This bit, from the 1998 holiday season, has Baldwin collaborating with SNL cast members Ana Gasteyer and Molly Shannon for some good times on NPR. Even though all they were talking about was a plateful of delectable holiday treats ("popcorn balls, cheese balls, rum balls," as Baldwin's purveyor of artisanal goodies, Pete Schweddy, described them), things got dirty really quickly on this seemingly wholesome radio show. After all, Baldwin had no problems declaring to Gasteyer and Shannon (somehow with a straight face), "Nobody can resist my Schweddy Balls."
You can watch this sketch on the official SNL site here.