Melania Trump's new lawsuit isn't hiding the fact that she wants to profit from being first lady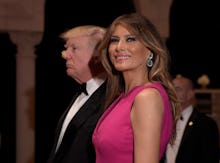 We knew something was up when she collaborated on the design of her inaugural ball gown. 
In a new lawsuit filed on Monday against Mail Media, the owner of the Daily Mail, Melania Trump's lawyer argues that an article falsely claimed she was an escort and thereby hurt her chance to establish "multimillion dollar business relationships" during her years as "one of the most photographed women in the world."
And by "one of the most photographed women in the world," the lawyer really means "first lady of the United States." 
"Plaintiff had the unique, once-in-a-lifetime opportunity, as an extremely famous and well-known person … to launch a broad-based commercial brand in multiple product categories, each of which could have garnered multimillion dollar business relationships for a multiyear term during which plaintiff is one of the most photographed women in the world," the lawsuit reads.
So to Trump, her time as first lady was the ideal time to expand her brand and making more millions. That's not such a first lady thing to do. 
As for the "categories" her brand could have fully expanded into had it not been for that insulting article, the lawsuit lays out, "among other things, apparel accessories, shoes, jewelry, cosmetics, hair care, skin care and fragrance." 
Effectively, she seems to want to be the next Kim Kardashian West, or Jessica Simpson. This is unheard of, as far as first ladies go. 
Some people in Washington are already concerned about how ethical this would even be, with the first lady — and her brand — financially benefitting from her position. 
"There has never been a first lady of the United States who insinuated that she intended to make a lot of money because of the 'once-in-a-lifetime' opportunity of being first lady," Richard Painter, who was a White House ethics counsel under former president George W. Bush, told the Washington Post. 
In light of this lawsuit, her designing her own inaugural gown feels all the more opportunistic. Now it looks like the reason for designing the dress could have been not because she necessarily felt like it, but because she wanted to gain a reputation as having a notable fashion taste, and then perhaps make money off of that. 
Given how unusual it is for the first lady to design her own gown, there was already speculation that she may be using the opportunity to promote her brand.
What is also bizarre is that her official White House page reads more like a celebrity's than a first lady's, mentioning the designers and magazines she had worked with in the past. 
Although this lawsuit claims this incriminating Daily Mail article hurt her chances of launching this massive brand and capitalizing on her time as first lady, it doesn't claim that it halted it entirely. So, as President Donald Trump's own conflicts of interest come under fire, maybe we need to keep an eye on the first lady's too. 
Mic has reached out to the White House for comment.