Is Trump against free trade?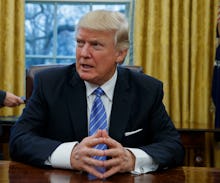 Since the 1980s, there's been one idea nearly everyone in Washington accepted, regardless of political party: Free trade is good. That all changed during the last election, though. Both Donald Trump and Bernie Sanders criticized the prevailing wisdom on trade while on the campaign trail — and once Trump was in office, he made good on his promise to pull the United States out of the Trans-Pacific Partnership, a proposed free-trade deal involving countries in Asia and North America.
The question, though, is this: Is Trump actually against free trade? Here's what we know.
Trump criticizes most trade deals
The TPP isn't the only trade deal with which Trump has a problem. According to his official trade plan, he wants to renegotiate and possibly withdraw from the North American Free Trade Agreement, the landmark deal signed in 1993 that ushered in the era of free trade. He also believes other countries are violating current trade agreements and wants his administration to look out for that.
Trump took advantage of free trade in the private sector
You've probably seen images of Trump products with "Made in Mexico" sewn into the fabric. Yes, as a businessman Trump enjoyed the benefits of free trade, using cheaper Mexican and Chinese labor to make products he sold in the United States.
Trump wants to bring back some pre-free-trade tools
Before America embraced free trade, tariffs and other charges on foreign companies looking to export into the United States were used to protect American businesses. Trump has talked at length about bringing back some of those tactics.