Rosie O'Donnell down to play Steve Bannon after McCarthy's Spicer impression rattles Trump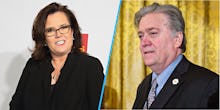 After reports spread that President Donald Trump was not amused with Melissa McCarthy's impression of press secretary Sean Spicer, at least one more comedian is looking to join the fun: Rosie O'Donnell. 
On Monday night, a Twitter user asked O'Donnell to jump into the comedic fray to play Trump. Rosie responded that she was game. 
"I am here to serve," she tweeted. 
Since comedian Alec Baldwin already boasts a pretty spot-on impression of the president, O'Donnell volunteered to impersonate chief strategist Steve Bannon on Saturday Night Live instead. Currently, a person in a grim reaper costume plays Bannon, former editor in chief of Breitbart, on the late night comedy sketch program.  
Though Trump usually is very vocal about Saturday Night Live on Twitter, he didn't tweet about McCarthy's impression. According to a Politico report, McCarthy's impression "rattled" Trump because Spicer being played by a woman made him look "weak" in Trump's eyes. O'Donnell playing Bannon would further rattle the president, and Saturday Night Live could also play off of O'Donnell and Trump's rocky history.
O'Donnell and Trump began feuding in 2006 when O'Donnell criticized Trump, calling him a "snake oil salesman" on The View and bringing up his multiple marriages and possible bankruptcies. Trump also infamously called Rosie a "real loser" and compared her and other women to "real pigs," "dogs," "slobs" and "disgusting animals." Trump defended his comments in a 2016 presidential debate.