23 new makeup and skincare products you need this spring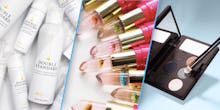 With spring nearly here, many of your favorite beauty brands are bringing some of their best products to the market. So get your makeup bag ready because the spring beauty collections are everything you've wanted and more.
M.A.C.'s Retro collection is back and better than ever with a series of 12 ultra-saturated liquid lip colors. This collection is filled with nudes as well as several deep red tones. There's even a muted purple and blue to the lineup for added beauty fun. If you're looking for bolder, brighter lip shades, check out the new Colour Rocker collection. 
Created with all lashes in mind, CoverGirl's latest mascara is the epitome of wonderful — it provides bold, voluminous lashes with all-over coverage. It even reaches the hard-to-reach lashes. Pair the mascara with CoverGirl's latest Outlast All-day Soft-Touch Concealer for the ultimate camera-ready look.
If you're one of those people who loves to discover new brands before everyone else, you have to buy Kristin Ess Hair's collection ASAP. The collection, sold exclusively at Target, is gentle yet hardworking — it's everything you've ever wanted from a drugstore hair collection. Oh, and did we mention Ess is Lauren Conrad and Lucy Hale's go-to hairstylist? Yup, we're sold.
Get ready to fall in love with Bioré's latest acne scrub. Made with baking soda, this product promises to gently exfoliate while unclogging your pores and, ultimately, reducing your breakouts. What more could you ask for?
This revolutionary two-in-one product is almost guaranteed to keep your makeup looking picture-perfect at all times. With a translucent mattifying balm on one side and a blotting paper dispenser on the other, you couldn't ask for a better primer-shine controller duo. Props to TrèStiQue for creating, in our eyes, the ultimate beauty product.
Lorac's California Dreaming Cheek Palette will keep your skin looking sun-kissed and beautiful — no beach required. Not only are the warm, Los Angeles-inspired colors a must-have for every beauty connoisseur, the palette has gorgeous packaging.
Smooth and soften your hair with Maui Moisture's latest shampoo and conditioner pair. With a soft coconut-vanilla scent and a mixture of aloe vera juice and velvety cocoa butter, these products blend together to help tame and moisturize frizzy hair. As if that wasn't enough, these Maui Moisture's products are responsibly sourced, vegan and made with eco-friendly materials. 
Too Faced's highly anticipated Peanut Butter and Honey eyeshadow palette will be released in March. Although little is known about the eyeshadow collection, sneak peeks from Too Faced's co-founder Jerrod Blandino have us convinced that this will be one of the beauty brand's best palettes yet.
Drybar's spring launch goes above and beyond the call of duty. The Double Standard is being marketed as the perfect on-the-go product. It's the perfect beauty item to revive your hair after a long trip.
Living Proof takes detangling spray to a whole new level with this spray. Not only does it promise to give your hair a natural shine, but it also provides "an instant boost of hydration" to keep your hair looking healthy all day.
Neutrogena Light Therapy Acne Mask, $34.99
Neutrogena's futuristic Light Therapy Acne Mask might make you look like a character right out of a Star Wars film, but it's highly effective at fighting acne. Use it once a day, every day for the best results. The mask is 100% UV free, chemical free and FDA cleared. So you really have no reason not to add this mask to your nightly beauty regimen. 
This is the beauty collaboration ColourPop fans have been waiting for. Instagram "it-girl" Alexis Ren partnered with ColourPop to create Topaz, a pressed powder face duo, and several stunning red lip colors. The collab has been so popular, that ColourPop is already sold out of all their Topaz palettes. Here's hoping they restock.
YesTo has quite a few new releases this spring — but our favorite new launch was the YesTo cotton collection. Soft and comforting, this line of bright blue products are designed for people with ultra-sensitive and allergy-prone skin. Although you currently can't purchase these products online, several major stores carry YesTo products.
Forget everything you know about spring color palettes and opt for a bold, intense look with Laura Mercier's latest beauty product. Complete with matte and metallic finishes, this clay palette offers six highly pigmented colors to give you a fierce look with minimal effort.
Loyal fans of Glossier are already obsessed with its Boy Brow products. And now, in addition to the blonde, brown and black colors, Glossier has released their beloved Boy Brow in clear. It's the same as the other Boy Brow products, but without the pigment.
Everything in Tarte's newest collection, Rainforest of the Sea Volume II, is perfect, from the packaging, the design, the colors. One of our favorite products in this collection is the limited-edition eyeshadow palette, which emphasizes shimmering shades of brown, blue and pink. It can be the go-to eye makeup palette for everyday use.
Leave your liquid facial cleanser at home because Origins' latest skincare product is here to replace it. The company's first ever cleansing powder is lightweight and easy to tote around, so it's a gym-bag essential. All you need is a splash of water to activate this charcoal cleanser.
This revolutionary product doesn't require water to keep your hair looking fresh and voluminous because it uses foam. Talk about taking the dry shampoo to new heights.
Forget about doing your lipstick and liner separately — Benefit is making your beauty routine more seamless with their latest beauty product. The They're Real! Double the Lip helps make your lips look full and defined with barely any effort. As if the product couldn't get any better, the lip duo is said to last up to eight hours.
Just in time for spring, Winky Lux's line of ultra-popular lip stains just got a whole new color — a bright, vibrant blue. Like its predecessors, the gorgeous blue balm goes on clear and then reacts with your skin's pH levels to create a unique shade of pink lips. 
Milk Makeup's latest release, the Blur Stick, is being marketed as a universal face lifter. Meant to minimize the appearance of pores and provide "a smooth, matte finish on every skin tone," the stick is the everything you've ever wanted and more. The best part? It seemingly doesn't budge, keeping your makeup looking perfect throughout the day.
Put yourself on the waiting list ASAP for Charlotte Tilbury's Instant Magic Facial Dry Sheet Mask. This five-skin solution is scheduled to be released in early March, according to a press release. The instant dry sheet mask is meant to hydrate, lift, brighten and smooth your complexion while simultaneously reducing the appearance of wrinkles. So why is it called "magic"? Perhaps because it can miraculously make your skin appear brighter and happier in just 15 minutes. We'd consider that pretty magical.
OPI's Fiji Collection is bright, bold and all-around beautiful. From shimmering pinks to tranquil blues, this spring collection offers 12 gorgeous colors for you to choose from — that is, if you think you can choose just one! Don't be afraid to mix and match different colors to create wave-like patterns for the ultimate manicure.