9 people with less life experience than the late Granddad, the oldest fish in captivity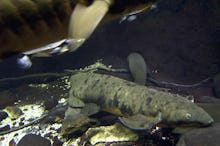 On Monday, Chicago's Shedd Aquarium said a heartfelt goodbye to Granddad, a lungfish who was the oldest fish in captivity at the time of his death. 
According to the Guardian, the sea creature first arrived at the aquarium in 1933 for that year's World's Fair. After his 15 minutes of fame, Granddad went back to conducting his usual fish business at the Shedd Aquarium, until — well into his mid-90s — he began losing his appetite and suffering from organ failure. 
The lungfish's caretakers then made the difficult decision to euthanize him.
In a statement Monday, aquarium president Bridget Coughlin said Granddad, whom she called "a living fossil," would be remembered fondly for the time he spent "imitating a fallen log" and teaching aquarium visitors about the unique biology that allows his species to breathe air. He was seen by more than a hundred million people in his lifetime.
It's safe to say Granddad enjoyed a very full life. And having lived for nearly a century, he had more life experiences than most — including some of these folks who we'd otherwise consider wise and learned:
Ruth Bader Ginsburg
Sure, Ruth Bader Ginsburg has served on the Supreme Court for over 23 years and has argued some six landmark cases on gender equality in her lifetime. But at just 83, she could probably learn a thing or two from Granddad. 
Buzz Aldrin
Aldrin was the second man to walk on the moon. And at 87, he just walked in designer Nick Graham's fashion show at men's New York Fashion Week, becoming the first astronaut to walk in NYFW: Men's. It seems like Aldrin has done it all, really. Unfortunately for him, he still falls short of Granddad's 90-plus years of life experience. 
Alex Trebek
In June 2014, the Jeopardy! host broke the Guinness World Record as the longest-running game show host, after making his 6,829th appearance on the show. The New York Daily News reported at the time that he'd asked 416,569 questions since he began his tenure there in 1984. Those are impressive credentials — but at 76, Trebek has significantly less life experience than Granddad. 
Morgan Freeman 
Freeman — who everyone agrees has the voice of not just an angel, but of God himself — has earned his reputation as Hollywood's wise, ageless grandfather. He's earned over 100 actor credits in classic films like Driving Miss Daisy, Shawshank Redemption and Seven, and received the National Medal of Arts from former President Barack Obama in September. That's cool and all — but has he met Granddad?
Maggie Smith 
British actress and Dame Maggie Smith has had a long and varied career, making her acting debut in a 1952 production of Shakespeare's Twelfth Night and then going on to star in everything from Sister Act 2 to the beloved Harry Potter movies. At 82 years old, though, Smith probably still has some life lessons to learn.
Julie Andrews 
Dame Julie Andrews has lived many lives in film. She cared for seven children and fled the Nazis as Maria Von Trapp in the Sound of Music. She was the queen of the fictional country Genovia in the Princess Diaries. But this youngster is just 81, which means Granddad the lungfish has seen far more of what life has to offer than she has. 
The Dalai Lama 
The Dalai Lama, Tenzin Gyatso, started his monastic education at six years old. Since then, he's traveled to more than 67 countries and has received more than 150 awards and recognitions, including the Noble Peace Prize. But though Gyatso is the 14th reincarnation of the Dalai Lama according to Buddhist belief, his corporal body is just 81 years old. 
Clint Eastwood
Eastwood is one of Hollywood's oldest and most highly regarded stars, who got his big break starring in spaghetti Westerns. Since then, he's acted in blockbuster hits like Million Dollar Baby and Gran Torino. At age 86, Eastwood's getting up there. But in terms of wisdom and general life experience, he's no match for Granddad. 
Queen Elizabeth II
Her majesty celebrated her 65th anniversary on the throne on Monday, making her the first British monarch to celebrate what's called a Sapphire Jubilee. She's been married for 69 years, has owned more than 30 corgis and serves as the head of state for 16 countries. But sadly, at age 90, she has yet to imitate a fallen log. 
RIP Granddad, we hardly knew ye.