'Friday the 13th' reboot shut down — and 'Rings' may be to blame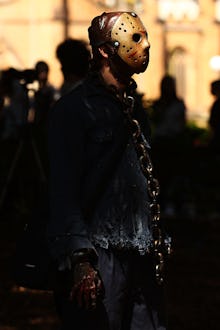 It seems death can come to those who don't even watch the cursed video in The Ring horror movie franchise. The most recent addition to the series could be responsible for scuttling the planned reboot of Friday the 13th. 
The latest adaptation of the story of the hockey-masked murderer was shut down by Paramount, according to the Hollywood Reporter. The film was already in preproduction, and principal photography was scheduled to start in six weeks. 
A specific reason for the decision has not been provided, but concerns about the low performance of the studio's most recent horror release, Rings, have been floated as a possibility.
Rings, which was directed by F. Javier Gutiérrez, cost $25 million to make and earned just $13 million in domestic ticket sales on its opening weekend. The movie, which was panned by critics, was the third installment in the series and the first to be released in more than 10 years. Its poor performance, when compared to the previous two installments, could indicate a lack of interest in reviving old franchises. The Ring, an adaptation of the Japanese movie Ringu, opened to positive reviews. The movie raked in $15 million during its debut weekend in 2002 and totaled $129 million domestic gross. The Ring Two, released in 2005, collected $35 million over its first three days, leading to its total of $76 million. 
Friday the 13th would have relaunched the popular franchise that began as a low-budget 1980 slasher film and went on to inspire 11 sequels. A 2009 reboot of the first film was panned by critics and grossed $65 million. New York Magazine said, "You really have to screw it up to dishonor the memory of a movie as shitty as the original Friday the 13th. Heads should roll."
Even without another Friday the 13th, there is no shortage of horror films to choose from, to stream on Netflix or catch in theaters. 
Mic has ongoing movies coverage. Please follow our main movies hub.