'Pokémon Go' Gen 2 Release Date: Fan art shows ideas for new starters, trading and more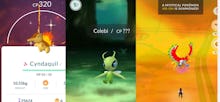 The Pokémon Go Gen 2 release date may still be a mystery, but this artwork for a new concept showing Gen 2 starters like Cyndaquil (pictured above) and trading in the mobile game is gorgeous.
Designer Albert Choi, who came up with a concept for how Mewtwo could be introduced to Pokémon Go, also imagined what a full-fledged Gen 2 release might look like. The resulting art is pretty great.
Pokémon Go Gen 2 Release Date Concept: Do we need more items?
A central tenet of Choi's Pokémon Go Gen 2 design is the inclusion of a bunch of new items. There's a tracking device called the Footprint Identifier, which requires additional battery items to function. The Footprint Identifier would act like the old Nearby system, only this time the tracker will give both distance and direction to find the Pokémon.
"Key items" are a new category of items that can only be earned during special events. "Care" items are used to clean off your Pokemon, raise their CP and teach them new combat moves. There are almost 20 new items suggested by Choi's design, which would mean some extra work for those of us who like a tidy item bag.
Pokémon Go Gen 2 Release Date Concept: A special system for capturing Legendary Pokémon
Choi also spends some time dealing with Legendary Pokémon, this being a topic of tremendous speculation as Niantic has given players zero idea how Legendary Pokémon will be introduced to the game. Niantic even started adding Gen 2 Pokémon to Pokémon Go, effectively skipping ahead to the next generation before finishing the Pokédex for Gen 1.
In Choi's conception of the introduction of Legendary Pokémon, the player requires special items to summon Legendaries. Ho-oh, for instance, would require two items to summon it. Players would have 10 minutes to capture a Legendary Pokémon before it despawns.
Pokémon Go Gen 2 Release Date Concept: A potential trading system
Pokémon trading was one of the early promises Niantic made for Pokémon Go via the game's live-action trailer, yet there has been no sign since that Niantic is even making preparations for Pokémon trading. Choi, of course, speculated on the idea of Pokémon trading, as well.
In Choi's concept, players use something called a "Trade Block" to advertise up to three potential trades they are willing to make, specifying both the Pokémon to be traded and the Pokémon that the trainer is looking for.
We chose to present three of the high points of Choi's version 2.0 concept, but he also touches upon trainer progression and new badges to earn, new ways for players to communicate and UI tweaks. Even if it's pure fantasy, Choi spent a lot of time on his proposed design. Perhaps Niantic is paying attention? Take a look for yourself here.
More Pokémon Go guides, tips, tricks and updates
Check out Mic's Pokémon Go tips and tricks. Here are guides on how to get stardust, how to determine how long it will take you to reach level 40, the kind of Pokémon you get from 10km eggs, how to create new PokéStops, how to maximize your chances of catching Pokémon and how PokéStops distribute Pokémon eggs. Also check out how to catch Gen 2 baby Pokémon, our analysis of post-balance update Chansey and Rhydon and everything you need to know about finding the long-awaited Pokémon Ditto.