How to play 'Fire Emblem Heroes' on PC and Mac: The answer is messy, but it works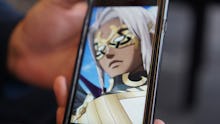 Fire Emblem Heroes is fun and free to play on iOS and Android, but that doesn't mean everyone can play. Maybe your phone is a few years old or maybe its measly hard drive is already full with 10,000 pictures of your aunt Sue's cat. Whatever the reason, it's not uncommon for people to seek out mobile games on PC. 
Good news: It's possible to play Fire Emblem Heroes on PC — that is, if you're willing to take a couple of steps to get there.
How to play Fire Emblem Heroes on PC
Since Fire Emblem Heroes was specifically designed for mobile devices, don't hold your breath for an official PC or Mac version. However, you can play Fire Emblem Heroes on your computer by using the program Bluestacks, an Android emulator for PC and Mac.
This program emulates an Android phone on your computer, allowing you to access most of the apps and features a regular phone would. You'll have to log in using a Google account, but once you get it all set up, you can open the Google Play Store and download Fire Emblem Heroes. As with all emulators, it might not work perfectly all the time, but it should get the job done.
Once you've downloaded Bluestacks, make sure you read up on the rest of our Fire Emblem Heroes coverage to get up to speed.
More Fire Emblem Heroes tips, tricks and updates
If you're still struggling to figure out Fire Emblem Heroes, we're here to help. Check out our handy guide on how to get started if you're new to the series, along with explainers on using Hero Feathers, changing nicknames in the game, boosting your characters with Unlock Potential, upgrading character star ratings and adding friends in Fire Emblem Heroes.