'Injustice 2' Beta Codes: Ed Boon giving out codes on Twitter — here's how to get one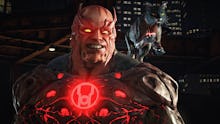 Beta codes for Injustice 2 have been in high demand, since it turns out people really like D.C. Comics. Go figure.
Injustice 2 beta codes already went out from the official registration, but the game's developers aren't done. With a little social media savvy, you can get one for yourself.
Ed Boon giving out Injustice 2 beta codes on Twitter
Ed Boon is best known as one of the creators of Mortal Kombat, but he's also a dynamic Twitter personality. Over the past few days, he's been giving out beta codes in a variety of ways. Trivia contests, for example.
If you're not a fighting game historian, you can win a code just for being a demonstrably passionate fan.
Here's the guy Boon was referring to:
Unfortunately, it looks like he's done for the time being. However, if you really want to get into the Injustice 2 beta, you should probably follow Boon on Twitter.
Injustice 2 is set to launch on May 16 for PS4 and Xbox One. So if you can't snag a beta code you'll have to wait a few more months to play game for yourself.
More fighting game news and updates
While you wait for more beta codes, read more fighting game news on Mic. Find out more about Super Smash Bros. for Switch, the Injustice 2 roster, the Tekken 7 console release date, what to expect from Marvel vs. Capcom: Infinite and the Evo 2017 lineup.