New Iran sanctions: Will they actually make a difference in US-Iran relations?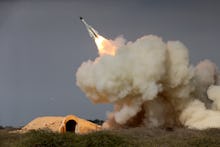 On Jan. 29, Iran conducted an unsuccessful test of an intermediate range ballistic missile. Donald Trump's administration condemned the test and requested an immediate meeting of the United Nations Security Council to address these events. National Security Adviser Michael Flynn put Iran "on notice." On Feb. 3, the administration added 13 individuals and 12 companies to the list of sanctioned entities and individuals in Iran. 
Neither these tests, nor the U.S. sanctions, violate the Joint Comprehensive Plan of Action, otherwise known as the "Iran Deal", which resulted in the lifting of sanctions on Iran pertaining to its nuclear weapons' program. The JCPOA did not require the lifting of sanctions related to ballistic missiles, nor did it require the lifting of sanctions imposed on Iran by the U.S. Congress. 
Do Iran's ballistic missile tests violate international agreements?
The Trump administration claims that the recent tests are in violation of UNSC 2231, which both eliminated all previous U.N. sanctions on Iran and "calls upon Iran not to undertake any activity related to ballistic missiles designed to be capable of delivering nuclear weapons, including launches using such ballistic missile technology." Iran has used two different lines of argument to justify its tests. The first is that because it does not have nuclear weapons, the missiles clearly are not "designed to be capable" of carrying them. The second, and stronger, argument is that "calls on" does not mean "requires" or "demands," which are frequently used to delineate outright prohibitions.
There is a long list of individuals and companies from which the JCPOA did not remove international sanctions. And the U.S. has its own sanctions on Iran. These new additions may be important, and the U.S. has not yet released details about the individuals listed, but they will likely do little to harm the Iranian missile program. 
As long as Iran is not clearly and blatantly in violation of either the JCPOA or UNSC 2231 there is virtually no chance that any major economic power will reinstate sanctions on Iran. Trump's continued denigration of the European Union as an institution and his antagonistic approach to China makes it unlikely that the United States would receive the benefit of the doubt in this circumstance.  
If there were no response at all to these tests, Iran could see that as tacit acknowledgment from the U.S. that the tests were legal. In that regard, these sanctions are necessary, measured and appropriate, even if they have no meaningful effect on Iran's missile program. However, when the national security adviser is a noted Islamophobe (Flynn has tweeted that "fear of Muslims is rational," the literal definition of Islamophobia), and the president spent an entire election campaign arguing against the JCPOA, some may be concerned that the Trump administration could escalate beyond "necessary, measured and appropriate."