Here are the female comedians who could spoof the men in Trump's administration for 'SNL'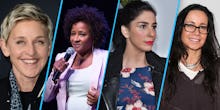 After three weeks of protests and a meteoric rise in disapproval ratings, one thing has Trump rattled: a Saturday Night Live impression. On Monday, reports surfaced that Trump was not amused by Melissa McCarthy's impression of Sean Spicer on the late night sketch program, because being played by a woman made Spicer look "weak." 
After news spread that Trump was deeply affected by the comedy bit, his arch-nemesis Rosie O'Donnell threw her hat in the ring to play former Breitbart editor and chief adviser Steve Bannon. 
With McCarthy and O'Donnell in place, Mic decided to play casting director for Saturday Night Live for the rest of Trump's Cabinet and advisers. Here are our suggestions for the best female comedians to spoof the president's boys' club.
Ellen DeGeneres as Vice President Mike Pence 
Is there any better choice to play Trump's stoic second banana, who is not the biggest LGBTQ community supporter, than the zealous and openly lesbian DeGeneres? DeGeneres' friendly comedy style would also strike a definite contrast with Pence, who reminds many people of the villain in every comic book. 
Megan Mullally as Attorney General Jeff Sessions
If you need someone to play the small, squeaky-voiced Sessions, look no further than Will & Grace star Megan Mullally, whose high-pitched Karen Walker kept people laughing for the better part of a decade. Mullally also has a knack for playing absent-minded characters who don't always play with a full deck of cards, which might be a good take on Sessions, who is a little forgetful of his history of racism. 
Sarah Silverman as Treasury Secretary Steve Mnuchin
The dark hair, the narrow features and the nasal tenor make Silverman a dead ringer for Mnuchin. Add in Silverman's whip-smart irreverence and she'd add a unique flavor to any skit poking fun at Trump's cabinet. 
Wanda Sykes as Housing Secretary Ben Carson
Carson's soft voice and gentle manner have already been sent up by SNL alum Jay Pharoah. But now that Pharoah's gone, the opportunity exists for Sykes, who is in every way different from Carson, to carve out a brand-new impression of the housing secretary. 
Janeane Garofalo as Energy Secretary Rick Perry 
It's more than just the glasses. Garofalo redefined stand-up comedy in the 1990s with her own brand of laid back, feminist stand-up. Swapping out Perry, who infamously got a "D" in a class called "Meats," for the smart and sarcastic Garofalo would not only send up Perry but draw attention to how little he reportedly understands his role as energy secretary. 
Rachel Dratch as Commerce Secretary Wilbur Ross
Dratch has already proven to be a master of disguise, after playing a litany of roles on 30 Rock. Dratch's talent is turning every character into an oddball. Given that she fits the physical bill, the small-statured former cast member can most definitely pull off Ross, the 79-year-old banker in charge of commerce. And hey, if she has to deliver any bad news while in character, we already know she can pull off Debbie Downer. 
Ana Gasteyer as Health Secretary Tom Price
Secretary of Health and Human Services Tom Price's voice is that of a gentle, old Southern woman. During her tenure on Saturday Night Live, Gasteyer played old women like high school vocal teacher Bobbie Mohan-Culp and gentle-voiced women like Delicious Dish co-host Margaret Jo McCullen. For Gasteyer, Price would be a cinch. 
Molly Shannon as Chief of Staff Reince Priebus
As chief of staff, Priebus has the frantic job of managing the president's office. And if you want a comedian who excels in being frantic, ask the energetic Molly Shannon, who played Catholic school girl Mary Katherine Gallagher and the kicking-in-her-fifties Sally O'Malley during her SNL tenure.
Catherine O'Hara as Secretary of State Rex Tillerson
Playing Rex Tillerson requires a bit of gravitas. That's why actress Catherine O'Hara, veteran comedic actress and star of Home Alone, could easily fill the role. Sure, John Goodman has played him once, but in the name of comedy, we're sure he'd be willing to pass the torch over to O'Hara.