Merriam-Webster once again owns Trump on Twitter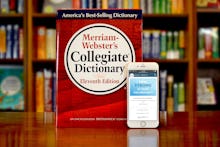 On Monday, after Donald Trump claimed — without evidence — that the "dishonest" media has been deliberately covering up terrorist attacks, the White House released a list of 78 attacks it deemed underreported. 
Please note that many of these attacks received enormous media coverage — the Los Angele Times won a Pulitzer for its reporting on the 2015 shooting in San Bernadino — but also that there are a number of glaring typos in the list. Notably, the word "attacker" is often misspelled "attaker."
Fortunately, the helpful folks at the Merriam-Webster dictionary were available to offer the president and his team some advice:
This is not the first time the Merriam-Webster social media team has trolled Trump. The dictionary livetweeted the second presidential debate, attempting to make sense of his, um, unique take on the English language.
Very good, Merriam-Webster. You've done a bigly job.