'Powerless': Ron Funches talks DC Comics and how NBC's new workplace comedy differs from the movies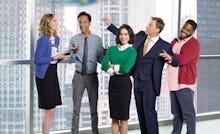 There is little question that networks and studios are trying to capitalize on the popularity of superheroes and comic books. In 2016, six of the top 15 highest grossing films all featured comic book heroes from either DC or Marvel. On the television side of things, there are frankly too many comic book adaptations to count. But NBC is banking on a new type of superhero show catching on: a comedy.
On Thursday, NBC debuted Powerless, the first comedy series from DC Comics. The series stars Vanessa Hudgens as Emily Locke, the newest director of research and development at Wayne Security who is tasked with motivating a team of employees lacking much enthusiasm. In addition to Hudgens, Powerless features an all-star cast of comedic actors that includes Alan Tudyk, Danny Pudi, Ron Funches and Christina Kirk. 
Powerless offers a unique look into the world of superheroes and villains. Rather than focusing on those with powers, Powerless does the opposite. The workplace comedy follows the ordinary employees at Wayne Security as they try and make a world full of superheroes and villains a safer place. As I mention in my review, the result is charming, funny and unlike any other comic book series to date. 
I recently spoke with the always funny Ron Funches, who plays Ron, the chief engineer at Wayne Security. During our call, we discussed Powerless, and what it is like to be part of a series set within the DC Comics universe. 
"Mostly it is more exciting for me to be like, 'I am a small, small part of this big universe,'" he said. "Somehow and someway in the real DC canon they have to be like, 'Ron kind of knows Batman.'" 
Is there any pressure starring in the first comedy series from DC Comics? According to Funches, "Not really."
"Mostly because they have never done it before," he said. "So there is nothing to live up to. It's just about trying to make a good comedy in that world." 
Funches said the lighthearted tone of Powerless is "a good break from the movies, where they are a little bit more dark and dour." For Powerless, Funches notes that it is important that "the story makes sense, that the world is believable, and hopefully people get into it." 
The series does not shy away from highlighting the world in which it exists. In the series premiere, Bruce Wayne (while never seen) plays a prominent role in the main plot, while the Joker, Lex Luthor and Superman are all name-dropped in one way or another. Still, for the most part, it appears that Powerless will predominately focus on lesser known heroes and villains like Crimson Fox and Jack O'Lantern, who both appear in the pilot. 
Funches remained understandably cryptic regarding the possibility of seeing any other heroes in Powerless, but he did tease a possible juicy storyline in future episodes. 
"There are some things coming up where it looks like there might be some dates or a love-triangle with some lesser known superheroes," Funches lets on.
Funches admits that the hero he hopes his character would get together with is unlikely to appear on Powerless. 
"I'm hoping that I get to make out with Supergirl," he said, before adding, "I don't know if that is logistically possible with the CW." He did note, however, that the two could just meet up off screen. "I'd be fine with that," he joked.
Funches may have the hots for Supergirl, but his favorite superhero is the Green Lantern John Stewart. Funches' son, on the other hand, is all about the Teen Titans. So does all this mean Funches could appear in the in-development Green Lantern Corps film? 
"That's what I'm hoping," he said. "I would love that. Maybe I'm worthy of the ring. I'd like to think so. You just have to be pure of heart and have great will power. And I have both those things."
Powerless airs Thursdays at 8:30 p.m. Eastern on NBC.
Mic has ongoing superhero coverage. Please follow our main superhero hub here.