Who is John Bercow? Watch the UK Parliament speaker slam Trump in controversial speech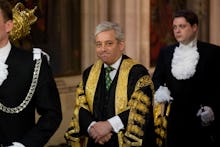 John Bercow, speaker of the House of Commons, the U.K. Parliament's lower chamber, broke convention Monday by announcing that President Donald Trump must not be permitted to address the Parliament. Bercow cited Trump's immigration ban during his remarks and added:
I feel very strongly our opposition to racism and to sexism and our support for equality before the law and an independent judiciary are hugely important considerations in the House of Commons.
Bercow's speech was met with a round of applause and cheers from opposition benches. It is not common for the speaker to formally address the House, according to Time, as the role is considered politically neutral.
Bercow was an unpopular choice for speaker
Prior to his 2009 election as speaker, Bercow was a member of U.K.'s Conservative Party. Speakers are expected to shed all party affiliations once in power, but Bercow won his seat by gaining the support of Liberal Democrat and Labour members of Parliament and earning the dislike of conservatives, according to a 2009 profile of Bercow by BBC News.
The BBC refers to Bercow as a "one-time right winger" and a "former member of a pressure group which advocated the repatriation of immigrants" who ticked off conservatives in 2004 for his praise of former Prime Minister Tony Blair's "outstanding statesmanship" over the Iraq War. Blair was widely credited with pushing the U.K.'s involvement in the war, and Bercow's praise of Blair was viewed by critics as "opportunism" and "trimming his views to suit the prevailing political trend."
Bercow has become more of a centrist over time
Bercow used to advocate for "voluntary repatriation of some immigrants" and "combating socialism at home and abroad" while a member of an ultra-conservative group called the Conservative Monday Club, as the BBC profile reports. But in 2004, Bercow told the Independent that his views started to shift after a 1999 vote in which he favored setting different ages of consent based on sexual orientation.
"I wasn't sure I was right," Bercow said. "I decided to go away and reflect, talk to gay people, church leaders and parents to gain their impressions. ... I came to the conclusion that there was no reason for statutory discrimination and told the Commons I had changed my mind. I then started to reflect deeply on other issues."
As a result, Bercow's Eurosceptic views began to similarly shift.
"The decisive phase came during the horrendous 2001 election," Bercow told the Independent. "I repeated the standard tunes, convinced that an aggressively Eurosceptic stance would win votes. I was completely wrong. The Conservatives must realize that being skeptical is different from being phobic in what is an interdependent world."
Bercow eschews traditional Speaker attire
Bercow has often sidestepped convention, his speech to the House of Commons on Monday being a prime example. But perhaps the harshest criticism of Bercow has centered on his choice of attire.
When he was elected speaker in 2009, Bercow drew criticism for his refusal to wear the traditional attire — silk stockings, buckle shoes and a wig. Instead, Bercow wore a standard suit under a plain black robe, a look he still prefers today. According to the Telegraph, Bercow said the outfit wasn't his style, to which the paper harshly responded:
Formal clothing is a universal human tendency. Any civilization worth its name gives ancient dress to authorities and sacred figures. ... With all old things that command respect, only a fool tears them apart for the sake of a fad, especially a political one. The history around us is not a rubbish heap but an inheritance.
Bercow is a tennis buff
According to the BBC, Bercow has such a passion for tennis that in 2014, he released a book titled Tennis Maestros: The Twenty Greatest Male Tennis Players of All Time. 
The BBC also notes that Bercow was quite the player himself as a child — even becoming a Middlesex under-12s champion — but later developed bronchial asthma and has only played casually since.
After joining the House of Commons, Bercow became a member of the Commons tennis team and formed a partnership with future Prime Minister David Cameron, according to the BBC.
His wife, Sally Bercow, is extremely outspoken 
Like her husband, Sally Bercow is a "former right-winger who moved to the Labour Party." In 2009, the same year her husband became speaker, Sally Bercow ran unsuccessfully for Westminster Council. In 2011, Sally Bercow appeared on Celebrity Big Brother, where she was the first contestant to be voted off.
That same year, Sally Bercow graced the pages of the London Evening Standard wearing only a bedsheet. She told the Standard her husband's status as speaker was an "aphrodisiac."
Sally Bercow is also fiercely outspoken, a characteristic that's landed her — and her husband — in hot water on occasion. In 2009, Sally Bercow criticized then-Tory leader David Cameron, calling him a "merchant of spin," putting pressure on her husband to reinforce his responsibility to remain apolitical as speaker.
In 2013, Bercow found herself sued for libel by Lord McAlpine — who was wrongly accused of sex abuse by an unfounded news report — after she tweeted "Why is Lord McAlpine trending? *Innocent face*" which the courts ruled as "highly defamatory," according to the Guardian. She later settled the suit and agreed to pay damages. Sally Bercow's Twitter account now only features one tweet: