13,000 people have been executed at a secret Syrian prison since 2011, according to report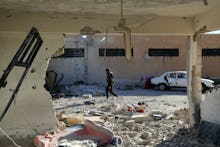 In a new report, Amnesty International alleged that an estimated 13,000 Syrian prisoners have been systematically executed in a secret prison between 2011 and 2015 in what would amount to war crimes and crimes against humanity by the regime of Bashar al-Assad if proven to be true.
The human rights group alleged that the Saydnaya prison, located north of Damascus, has served as the home base for the Syrian government's brutal campaign of torture and murder aimed at silencing dissenters since the country's bloody civil war began.
The report, titled "Human Slaughterhouse," details the litany of abuses Saydnaya prisoners face, including deprivation of food, medicine and water, as well as repeated torture.
"The horrors depicted in this report reveal a hidden, monstrous campaign, authorized at the highest levels of the Syrian government, aimed at crushing any form of dissent within the Syrian population," Lynn Maalouf, deputy director for research at Amnesty International's regional office in Beirut, said.
"We demand that the Syrian authorities immediately cease extrajudicial executions and torture and inhuman treatment at Saydnaya Prison and in all other government prisons across Syria. Russia and Iran, the government's closest allies, must press for an end to these murderous detention policies."
During its research, Amnesty spoke with survivors of Saydnaya who produced firsthand testimony of a world inside the prison that is "carefully designed to humiliate, degrade, sicken, starve and ultimately kill those trapped inside."
A former judge from a Syrian military court interviewed for the report told Amnesty that the internal "trials" conducted by military officials were a sham that operated outside of the Syrian legal system, and would always end with the prisoner's head in a noose. 
"The judge will ask the name of the detainee and whether he committed the crime. Whether the answer is yes or no, he will be convicted... This court has no relation with the rule of law. This is not a court," he said.
Once convicted, detainees are then subjected to death by hangings, which the report alleges are carried out once or twice a week in the dead of night.
An unnamed judge who had witnessed such hangings told Amnesty that because some of the prisoners weigh so little — the result of starvation — the noose alone is not enough to kill them.
"They kept them [hanging] there for 10 to 15 minutes. Some didn't die because they are light," he said. "For the young ones, their weight wouldn't kill them. The officers' assistants would pull them down and break their necks."
As a result of its gruesome findings, Amnesty called on the United Nations to "immediately carry out an independent investigation into the crimes being committed at Saydnaya and demand access for independent monitors to all places of detention," according to CNN.
Assad, for his part, has maintained that accusations of atrocities and war crimes carried out by government soldiers are propaganda touted by the rebellion. The same goes for Russian President Vladimir Putin, who has repeatedly dismissed claims that his Russian forces have enabled Assad's atrocities as merely "rhetoric."
As governments squabble, the body count rises: An estimated 470,000 Syrians have been killed since the war began, and another 11 million have been forced to flee their homes to escape the conflict.