How FX's superhero series 'Legion' could connect to the X-Men Universe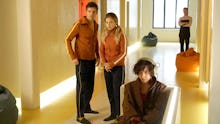 On Wednesday, FX will debut its first superhero series, Legion, which, based on the overwhelmingly positive reviews, is a show superhero fans and casual viewers should be tuning in to. It exists in the X-Men universe by following David Haller, an exceptionally gifted mutant who is diagnosed as a paranoid schizophrenic, though it might be the result of his powers. 
When the first half hour of Legion's premiere debuted at New York Comic-Con in October, the show gave off the impression of Mr. Robot meeting the X-Men universe, in that it's unclear whether what the viewer is seeing is real or a figment of Haller's imagination. It should lead to some trippy and memorable sequences for a character whose comic book backstory is exceptionally complicated. 
For one, Haller is the son of Professor Charles Xavier, who, along with Wolverine, is arguably one of the most recognizable X-Men characters in popular culture. Moreover, Haller (or, going by his X-Men alias, Legion) is considered a villain because the character incidentally threatens humanity due to his multiple personalities and extraordinary powers, even when he's not trying to. It's why Legion producer Lauren Shuler Donner described the series as a "deconstruction of a villain" coupled with a love story. 
"You have a love story that has come in, which wasn't in the comics," Donner told IGN. "Doesn't love conquer all? So will her love stop him from becoming the evil villain that he is supposed to come? That's the question." 
But does this mean Legion will ultimately reach these lengths and connect to the X-Men Cinematic Universe? Probably not — at least not at first. Legion creator Noah Hawley, who also created FX's brilliant Fargo series, said the goal is to keep Legion as a standalone series. 
"I think it's important for us to establish this as a fully realized world with fully realized characters," Hawley told Variety in January. "It does connect and it can connect, but I'm not relying on that. I have to prove myself. I have to prove that the show is good enough to incorporate those elements from the movie world, if that were ever possible."
Donner echoed those sentiments during the aforementioned interview with IGN. 
"The cinematic universe will not worry about Legion," Donner said. "They will not worry about these TV worlds [at] all. They will just continue in the way that they have been continuing, and there is some great stuff that we are developing. I can just say it's going to be new and different, and yet Legion and our other show, we're not going to get in each other's way." 
What is almost certainly off the table for Legion is any connection to other Marvel properties outside of the X-Men, such as the Avengers. There's a simple reason for that: 20th Century Fox owns the X-Men, while Disney owns the Avengers characters. It's why the X-Men never cross over onto their movies and vice-versa, so don't expect Legion to cross over with any of Marvel's properties, be it on TV or the big screen. 
The lack of initial X-Men connections to Legion isn't necessarily a bad thing, however. Giving the show time to stand on its own is important — it's what helped buoy Hawley's Fargo series, which took a few episodes before it made a connection to the eponymous film. If Legion's positive reviews are any indication, it should stand to do the same. 
Legion premieres Wednesday at 10 p.m. Eastern on FX.  
Mic has ongoing superhero coverage. Please follow our main superhero hub here.