Oscar Predictions 2017: Could 'Hidden Figures' beat 'La La Land' for best picture?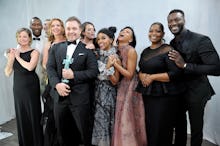 Following its victory at the Screen Actors Guild Awards, where it won outstanding performance by a cast in a motion picture, Hidden Figures may ride the awards show crest to victory at the Oscars and win best picture. 
The critically acclaimed film — which chronicles the work of three black women who worked for NASA — has been considered the underdog in the Oscars race, surprising some by even earning a best picture nomination in the first place. The Damien Chazelle musical La La Land, a critical darling since it opened, seems to face some stiff competition in Hidden Figures, which has also performed well at the box office. 
La La Land broke the record for wins at the Golden Globes, including taking home the trophy for best picture, musical or comedy. The romantic musical story of a musician and an actress chasing success in the city of angels earned a total of 14 Academy Awards nominations — tying with just two other films for the most ever bestowed on one picture — and has been widely considered a shoo-in for best picture. 
In contrast, Hidden Figures earned just three Oscar nominations (best picture, best performance by an actress in a supporting role and best adapted screenplay) and only two Golden Globe nominations (for best supporting actress in a motion picture and best original score). 
Hollywood has been the focus of a newly heightened awareness regarding diversity, or lack thereof, especially with regards to the Oscars. That lens, as well as the backlash La La Land received for its lack of diversity, may result in a surprise at the Feb. 26 ceremony. The passionate devotion La La Land has inspired in white audiences was mocked by Saturday Night Live when Aziz Ansari hosted. 
Mic has ongoing movies coverage. Please follow our main movies hub here.