Galaxy S8 Leaks: The biggest changes coming to the next Samsung release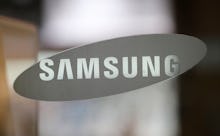 The Samsung Galaxy S8 release date is coming. The South Korean tech giant will reportedly make the announcement on March 29 in New York City and make the new devices available for purchase on April 21. 
While the unveiling is delayed — Samsung typically rolls out the Galaxy S device at the Mobile World Congress trade show in Barcelona — the company is gearing up for big sales. According to the Investor, Samsung is preparing to ship out 60 million devices. That's 12 million more than their cumulative sales for the Galaxy S7. 
Galaxy S8 Price
The S8 will likely come in two sizes and the devices have been code-named Dream (5.8-inch model) and Dream 2 (6.2-inch model). The larger model will retail for more than the smaller one, and BGR reports the S8 will start at $849.
Galaxy S8 Screen
The S8 will feature a completely different screen. BGR reports that the larger model will have QHD Super AMOLED screens. These advances screens are expected to take up 83% of the device's front panel. The Guardian reports, citing unnamed sources, that the screens will be similar to the Galaxy S7 Edge: The S8s will feature "screens that curve down at the left and right sides of the device." CNET reports the device will have a pressure-sensitive screen similar to Apple's 3D touch.
Galaxy S8 Design
A larger screen in the S8 will change the design of the phone. Specifically, the 83% screen means the fingerprint scanner will move to the back of the handset. Forbes reports the design will be "almost bezel-free" featuring a "super-sized display."
Galaxy S8 Processor
The S8 will have a new processor. For U.S. handsets, the devices will feature a Qualcomm Snapdragon 835 processor, which is smaller and consumes less power than the Snapdragon 820 — the processor that powers the Galaxy S7. The Snapdragon 835 is 27% more powerful than the Snapdragon 820, Forbes reports.
Galaxy S8 Iris Scanner
A feature Samsung rolled out with the Galaxy Note 7 may be coming to the S8: an iris scanner. Should the S8 offer the same iris scanning biometric technology as the Note 7, then users can unlock their smartphone and make purchases using their eyes.
More updates
For those looking for more details about the upcoming S8, know that Samsung is expected to release a video teasing the S8 at their Mobile World Congress press event announce the Galaxy Tab S3 on Feb. 26. The first glimpse will be within the one-minute video clip.