Incredible 'Portal' AR demo almost justifies the HoloLens' $3000 price tag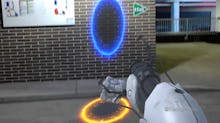 After immersing yourself in a beautifully designed puzzle game like Portal, it probably lingers in your brain long after you've beaten it. You've probably imagined yourself blasting the walls in your apartment with orange and blue doorways, or opening up a rift in the ground big enough to swallow a car. 
Well, a new Portal demo developed for HoloLens — Microsoft's augmented reality headset — comes pretty damn close to making that dream a reality.
The demo, created by game developer Kenny Wang, superimposes the physics-bending world of Portal into real-world environments. In the video, you can see Wang throwing a simulated Companion Cube through portals on floors and walls, interacting with gravity and the environment exactly how you'd expect it to in Portal and Portal 2.
Of course, this is just a tech demo made for fun. Don't expect a full-fledged augmented reality Portal game to go on sale at your local Target any time soon. Still, it's an inspiring look at what the future of augmented reality gaming might look like if it ever goes mainstream. 
That future is probably a long way off, though. Microsoft Hololens still costs a whopping $3,000.
More video game news and updates
For more gaming news, check out the latest from Mic. Here are the details on getting an Injustice 2 beta code, a guide to catching legendary Pokémon in Pokémon Sun and Moon, a tier list for the best characters in Fire Emblem Heroes, and information on pricing and nabbing a pre-order of Nintendo's new console, the Nintendo Switch.