Grammys Predictions 2017: Who's going to take home the night's top awards?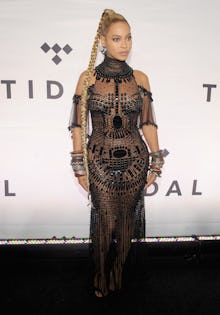 On Sunday night, the 59th Annual Grammy Awards will honor the best in music. Beyoncé leads the night with a total of nine nominations, while Drake, Rihanna and Kanye West are right behind her, sharing eight nominations apiece.
With an ever-growing list of performers — plus West and Justin Bieber making a statement by not showing up to the ceremony — Sunday's looking to be a momentous evening. So let's look at who will likely take home the big awards on Sunday night.
Beyoncé and Adele share some of the night's top categories, such as record of the year and song of the year — and it looks like it will be a showdown between the two queens. Here's who we think will take home the night's top prizes.
Best new artist
This category has a history as a wild card. Some winners of this award — such as Mariah Carey in 1991, Toni Braxton in 1994 and Lauryn Hill in 1999 — have gone on to superstardom. But some more questionable choices have been made over the years, such as Meghan Trainor, who won the award last year and Shelby Lynne, who won in 2001.
This year's nominees include Kelsea Ballerini, the Chainsmokers, Chance the Rapper, Maren Morris and Anderson .Paak. While the Chainsmokers have had the most commercial success of the nominees from this list with their hit song "Closer," our money is on Chance the Rapper, whose 2016 album, Coloring Book, earned rave reviews. It would also be an opportunity for the academy to shine a light on the rappers outside of rap-specific genres.
Record of the year
Record of the year is a tough choice this year. The nominees are "Work" by Rihanna featuring Drake, "Hello" by Adele, "Formation" by Beyoncé, "7 Years" by Lukas Graham and "Stressed Out" by Twenty One Pilots.
The award is one part of what looks to be a big showdown between Beyoncé and Adele throughout the night, who share several categories. While "Formation" earned Beyoncé her first Top 10 hit since "Drunk in Love" in 2013; "Hello" played incessantly for months on the radio, debuted at No. 1, sat at the top spot for several weeks on the Billboard Hot 100 and became the first song to ever hit over 1 million downloads in its first week. It's important to note that record of the year recognizes not just the artist's performance, but also the work of the song's producers, and it's hard to ignore the incredible overall success of "Hello." It's safe to say Adele has this one in the bag.
Song of the year
While record of the year recognizes the song as a whole, song of the year honors the songwriters directly. The Beyoncé-Adele showdown continues in this category, with both "Hello" and "Formation" earning nominations alongside "I Took a Pill in Ibiza" by Mike Posner, "Love Yourself" by Justin Bieber and "7 Years" by Lukas Graham. This is another category that seems likely to go to Adele.
Album of the year
When it comes to album of the year, our money is on Beyoncé's Lemonade taking the big prize. Queen Bey's album is up against Adele's 25, Justin Bieber's Purpose, Drake's Views and A Sailor's Guide to Earth by Sturgill Simpson. All of the nominated albums were successes — Views was a massive achievement for the rapper and was the No. 1 record for over 13 weeks — but few albums had as big of an impact on pop culture and music last year as Lemonade did.
Lemonade was one of the year's best-reviewed albums and it spawned a handful of Top 20 hits for Beyoncé. Many have called the record her masterpiece — and it's hard to argue against that. Lemonade is filled with tracks that not only span genres, but revealed more Beyoncé to us than ever before — tracks like "Don't Hurt Yourself," "Daddy Lessons," "Hold Up" and "All Night." The singer shared her views on culture, disclosed her secrets and left us guessing what really went down between her and Jay Z. It is inarguably the most memorable and impactful album of last year and would be a deserving recipient of the album of the year award.
Best rap album
The nominees for best rap album make a case for anyone taking the top prize, though two artists stand out among the crowd. Chance the Rapper's Coloring Book was critically acclaimed and was unlike anything we've heard from the genre in ages. Drake's Views was also an incredible success, becoming the most popular album of 2016. However, it garnered only lukewarm reviews from critics and fans who seemed to have largely forgotten it outside of the singles.
Anonymous Nobody by De La Soul and Major Key by DJ Khaled were two solid entries into the genre last year and, of course, there was Blank Face LP by Schoolboy Q, which we're still not over. And then there is The Life of Pablo by Kanye West, which is one of the rapper's most divisive albums to date.
While the night could be a surprisingly successful one for Chance the Rapper, we're not counting out Drake as a possibly surprise winner, but the Coloring Book should take this award home.
Best pop solo performance
Best pop solo performance might be the tightest race of the night. "Hello" by Adele is in a position to sweep most of the categories it is nominated for, but if Adele fatigue hits the voters, this category in particular could go to any of the other nominees. "Hold Up" by Beyoncé, "Love Yourself" by Justin Bieber, "Piece by Piece (Idol Version)" by Kelly Clarkson and "Dangerous Woman" by Ariana Grande are also nominated in the category, and we think Kelly Clarkson is a particularly strong contender to take this award.
Adele has won this category several times over before, including in 2012 for "Someone Like You" and in 2013 for "Set Fire to the Rain (Live)." Clarkson has been nominated several times in this category before, but has yet to win. One of the most memorable and viral moments from last year was Clarkson's tearful performance of "Piece by Piece" on American Idol. It earned nearly 25 million views on YouTube and 83 million views on Facebook. Keith Urban is still crying from the emotional rendition, and we're counting on Clarkson to surprise viewers in this category.
Mic has ongoing Grammy coverage. Follow our main Grammys hub here.