'Pokémon Cobalt and Amethyst' 'Minecraft' Map: A full Pokémon game inside a Minecraft mod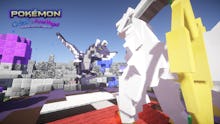 There doesn't seem to be anything that you cannot do in Minecraft. Builders have even put together working computers in Minecraft. So why not build a Pokémon game?
Pokémon Cobalt and Amethyst is a Pokémon game built in Minecraft that reportedly takes between 60 and 80 hours to complete. It is built in the style of the main Pokémon games and includes everything you would expect. You can catch, train and battle with your Pokémon, fight against other trainers, and eventually climb to the top of the Pokémon trainer ranks.
Check out Pokémon Cobalt and Amethyst in the video below.
Pokémon Cobalt and Amethyst Minecraft Map: A wonderful Minecraft mod
Minecraft plays host to some amazing designs and experiences in part because Minecraft is easy to mod and it's relatively easy to share Minecraft worlds with other players by sharing the game files. Minecraft can therefore be very attractive for modders like the producer of Pokémon Cobalt and Amethyst, who goes by "Phoenix SC."
Dozens of people worked Pokémon Cobalt and Amethyst, including five lead artists, six music/FX designers, 13 artists to create the game models, four map designers and 36 map builders. According to a post on the Minecraft Forum, it took 31 months to complete Pokémon Cobalt and Amethyst.
Pokémon Cobalt and Amethyst Minecraft map contains a ton of content
There are 136 new kinds of Pokémon to catch in Cobalt and Amethyst and an entirely new region called the Suliqu region. There's also a full story that involves a rival Pokémon trainer who is creating "shadow Pokémon" and must be defeated, complete with dialogue and cutscenes.
Battles in Pokémon Cobalt and Amethyst look very authentic to the main Pokémon games, with each Pokémon having a selection of attacks, buffs and debuffs that are used in a typical turn-based structure. Because the Pokémon battle is in Minecraft, you can also walk around and view the fight from any angle you want, which is cool.
If you want to play Pokémon Cobalt and Amethyst, you will need to play Minecraft on your PC and have version 1.8.7 or 1.8.8 of the game running. Next, you'll need to download and install the game (link here). Then make a selection of settings changes once you are in Minecraft itself, using these video and text instructions to guide you through the process if necessary.
Once you're done you should be ready to dive into a new Pokémon adventure from inside Minecraft!
More Pokémon news and updates
Hungry for more Pokémon news? Check out our guides to hatching eggs and getting free coins in Pokémon Go. Plus a roundup of all the Legendary Pokémon in Sun and Moon and some tricks for raising your Pokémon's happiness in the game.