What just-confirmed Betsy DeVos means for U.S. education and millions of children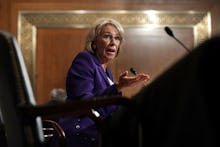 You could almost feel the fabric of the Senate tear. The rules, decorum, pleasantries and deliberation that have held together the world's top legislative body finally collapsed Tuesday with the confirmation of Betsy DeVos. With a split 50-50 vote, senators could not come to a majority consensus over whether the billionaire philanthropist and megadonor to the Republican party should oversee U.S. education policy. After Democrats flipped two Republicans to their cause and #HeldTheFloor to protest DeVos for a day, their efforts proved futile. Mike Pence became the first vice president to ever break a tie in a Cabinet confirmation vote and Betsy Devos was confirmed as secretary of education.
Democrats and Republicans each argued they were in the right. Republicans maintained President Donald Trump deserved the "norm of deference" both parties have shown to Cabinet nominees of past presidents. But Democrats argued some of Trump's nominees, including DeVos, present ethics questions and are so unqualified they cannot support the president's pick. "It is seldom that someone with such a thin resume and such a big wallet is given such an important job," Sen. Dick Durbin said Tuesday morning, one in a string of Democrats who gave speeches all day and night to draw attention to the looming vote on DeVos.
That speech-driven protest was the latest Democratic tactic to bring the Senate to a standstill. Trump now has fewer confirmed Cabinet nominees than any other modern president at this point in a presidency. (The Washington Post reported Monday that almost all Democrats plan to vote against the remaining nominees.) Boycotts, speeches and other delays have obstructed the ability of Trump and Republicans to accomplish almost anything. But given that liberals face pressure to stall or deny every Trump proposal or nominee, Democrats may proudly review this period as the time they did everything they could to oppose the president.
What DeVos means for education: The truth is we do not know what DeVos will do to American public, charter and private education. She has been an advocate for "school choice" and charter schools, working on the outside of political structures to change Michigan's education system. But she has never worked at or managed a school, public or private.  
Public education advocates, Democrats and teachers unions have rebuked DeVos as a wealthy conservative who wants to gut public schools. Specifically, senators have worried she will not preserve the federal government's role in funding low-income schools and guaranteeing access to education for children with disabilities. They cite the poor performance of Michigan schools DeVos did support as evidence charter schools and voucher programs do not necessarily help students.
Republicans and school choice advocates see DeVos as the dawn of a new era in American education. Public schools, especially in urban areas, need a new approach after years of low test scores, high teacher turnover rates and poor graduation data, conservatives argue. These advocates argue giving children options beyond their designated public school can deliver them a better education.
One thing is for sure: DeVos did not accept Trump's offer to become education secretary in order to preserve the status quo. The Education Department will move, perhaps rapidly, to reform how America educates its students. With hundreds of billions of dollars flowing through the department, college students holding $1.4 trillion in student loan debt and strong advocacy groups on both sides, DeVos has put herself in the middle of a uniquely American hornet's nest.
What's next for other Cabinet nominees: Jeff Sessions should be up next. While his vote is not expected to be as close as DeVos, the Alabama senator's bid for attorney general was not without tense moments. Democrats questioned Sessions' record on civil and voting rights, while Republicans defended him as a fair and restrained lawyer.
Rep. Tom Price and Steven Mnuchin are also expecting votes this week. The nominees to run Health and Human Services and the Treasury were approved out of committee by Republicans after Democrats boycotted the votes.
The next controversial vote? The Oklahoma attorney general that Trump nominated to run the Environmental Protection Agency scared liberals from the start. But new developments could make Scott Pruitt's confirmation efforts almost as controversial as DeVos', even if it is almost certain he will be confirmed.
Fusion reported Tuesday that Pruitt may have lied under oath during his confirmation hearing. Pruitt said he has filed briefs calling for a decision in a court case brought by his predecessor in Oklahoma to determine whether poultry companies were illegally dumping waste into the Illinois river. But Fusion found Pruitt has filed no briefs to that effect. Pruitt denies the allegation he lied. Hundreds of former EPA employees are urging the Senate to reject Pruitt, a nominee seen as friendly to the fossil fuel industry and set to roll back myriad environmental protections.   
This is Mic's daily read on Donald Trump's America -- and how it affects you. Welcome to the political newsletter that Mike Pence once broke a tie over. 
Want to receive this as an email in your inbox? Subscribe here. 
Highlights: 
-- Today: Betsy DeVos has been confirmed as secretary of education in a historic split vote in the Senate.
-- More on DeVos: What the billionaire will mean for American education. 
-- More: What's next on other key confirmation votes.
-- Even more: The White House sends mixed messages on terrorism.
-- Yes, more: How $$$ is mobilizing against President Donald Trump. 
-- Trump's agenda today: The president is back in Washington, D.C., meeting with county sheriffs who support his border wall plan and his secretary of state. Not on his schedule, but sure to occur: lots of tweeting.
White House flip-flopping on terrorism
It all began with Trump's statement that the "media" is failing to report on terrorist attacks. "It's gotten to a point where it's not even being reported, and in many cases the very, very dishonest press doesn't want to report it," the president said at an Air Force base in Florida. That statement forced a comment from press secretary Sean Spicer, who clarified Trump's comments to mean the media underreports certain acts of terrorism. But when the White House produced a list of terrorist attacks the media have supposedly ignored, it included attacks that did indeed draw international attention, like those in Paris, Orlando, Florida, and San Bernardino, California. It's also worth noting the list omitted acts of right-wing violence like Dylann Roof's shooting of nine black parishioners in a Charleston, South Carolina church.
This Trump statement comes against the backdrop of numerous legal challenges to the president's ban on immigration and refugees. On Monday night, the Justice Department filed a brief appealing the Friday night decision by a judge to put Trump's immigration ban on hold nationwide. The federal appeals court in California could rule on that brief — deciding whether Trump's ban will remain stayed or be reinstated — sometime this week, giving immigrants with valid visas a narrow window to enter the United States. But these challenges, which Trump has repeatedly criticized on Twitter, may have left the president feeling a need to defend the moral "why" behind his ban.
How money is aligning against Trump
Tech companies. Super Bowl ads from iconic American brands. Jet.com. What do they all have in common? Rebukes for the president. Super Bowl advertisers felt an opening to come out as pro-immigration — a contentious move in front of a conservative viewing audience. While many ads attracted attention, Mic broke down the important policy implications of this messaging. The takeaway: There's a case to be made that Trump's travel ban will hurt American workers and businesses. 
Mic also found Jet — an e-commerce giant bought last year by Walmart for $3 billion — has quietly removed Donald and Ivanka Trump products from its website, the latest retailer to join the trend. And nearly 100 technology companies, including Apple and Google, have taken a stand against Trump's travel ban, an extraordinary show of force from one of America's richest sectors.
News and insight you cannot miss:
-- Sen. Tom Cotton, a longtime Trump supporter, will introduce a bill Tuesday to slash the number of green cards and visas the U.S. will issue each year. (Politico)
-- Trump's pick to run the Department of Labor, a staunch conservative and opponent of minimum wage increases, once hired an illegal immigrant. (Mic)
-- Israel is pressing on with plans that will anger many in the international community, retroactively legalizing all of its settlements in the West Bank on Monday. (Daily Beast)
-- Hillary Clinton has made her first video appearance since the election. (Mic)19 Jewish rabbis were arrested for protesting Trump's travel ban at Trump Tower in New York City. (?Mic?)
-- New England Patriots players are saying they do not want to visit the White House in the wake of their Super Bowl win. (?Mic?)
-- A lawsuit filed by Melania Trump against the ?Daily Mail ?suggests the first lady sees her time in the White House as an opportunity to make money. (?Mic?)
-- Twitter has announced new tactics and features to help users avoid the platform's most abusive language. (?Mic?)