Oklahoma lawmakers want women to get written consent from father of fetus to get abortion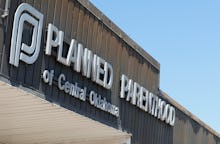 Oklahoma state legislators are making it all the more clear that they don't trust women to make their own reproductive choices.
On Friday, Rep. Justin Humphrey introduced a bill that would require anyone seeking an abortion to first receive express permission from the fetus' father.
According to the bill's text, a pregnant woman would have to provide the identity of the father "in writing" to her abortion provider before undergoing the procedure. If the identified father contests that he is, in fact, the father, he can demand a paternity test, which would delay an abortion by at least three to five days.
The bill allows exceptions if the father of the fetus is "deceased" — and the woman signs a notarized affidavit that says so — if the woman's life is endangered by the pregnancy, or if the pregnancy is the result of rape or incest. 
As if it's not enough that male legislators already make decisions about what women do with their bodies, if Humphrey's bill gets passed then the men in women's lives will have the power to make those decisions too.
Monday's bill is just the latest in legislation that would require women to obtain some sort of permission to receive an abortion.
 In January, Arkansas governor Asa Hutchinson signed an anti-abortion law, including a clause that allows a woman's spouse or family members to sue an abortion provider, effectively giving those parties what the Daily Beast termed "veto" power over a woman's right to have an abortion. Under this new law, there are no rape or incest exceptions.
The Supreme Court addressed the constitutionality of spousal consent legislation in 1976, in the case of Planned Parenthood of Central Missouri v. Danforth. The Court later upheld its ruling in 1992 when adjudicating Planned Parenthood of Southeastern Pennsylvania v. Casey. All to say — it's unconstitutional.
Bonyen Lee-Gilmore, director of communications at Planned Parenthood Great Plains, spoke out against Humphrey's new bill in an interview with Jezebel. 
"In no other area of law are competent adults required to seek permission from others in order to receive their medical care," Lee-Gilmore sad. 
"We're seeing this because the vocal minority and the extremist lawmakers continue to attempt to shame and stigmatize patients who are exercising their constitutional right to a safe and legal abortion."