'NBA 2K18' Release Date on Nintendo Switch: How the launch could affect the hoops series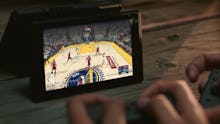 NBA 2K18 will be released in September for all consoles — including the Nintendo Switch — but we don't know the exact date yet.
We do know the Nintendo Switch offers some characteristics that could create a unique NBA 2K experience that is impossible to enjoy on any other console.
According to Nintendo, NBA 2K18 on the Switch will offer the same modes fans of the series have become accustomed to, but there's one major difference: The Switch is portable.
Let's dive into what that might mean for NBA 2K18, but first, check out the Nintendo Switch if you haven't already.
NBA 2K18 release date: Why the Nintendo Switch version will be special
The biggest selling point for the Nintendo Switch is its ability to transform from a home console to a portable gaming system. This could be big for NBA 2K18 fans.
Aside from being able to play longer sessions of NBA 2K18 in different settings, it will also increase the time one can spend earning virtual currency. VC powers the NBA 2K experience. Unless you're shelling out real money to purchase VC to upgrade players and to buy packs and more in MyTEAM, you're grinding in a variety of modes to earn the cyber cash. So being able to take the game on the road gives fans more time to grind.
For example, you're on your way to class or to work and you have a lengthy commute. If you bring your Switch with you and you have access to a strong Wi-Fi connection, you can continue your quest for an in-game badge, Pink Diamond card and more.
Imagine what it would feel like to pull a Pink Diamond Kobe Bryant card in MyTEAM while you're on the train en route to school or work. It would take every bit of couth you possess not to scream out in exuberance.
The Nintendo Switch has plenty of other positives, but if you're an NBA 2K fan this might be the biggest one of all. 
More sports gaming news and updates
Are you a sports gamer? Check out more content from Mic, including news on EA Sports' 2017 plans for titles like NBA Live 18 and EA Sports UFC 3. There's also details on R.B.I Baseball 17, and the latest patch notes on WWE 2K17's 1.06 update.