Lady Gaga confirmed as guest judge for 'RuPaul's Drag Race' Season 9 premiere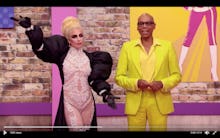 In news that will surely illicit a "yaasss Gaga" heard round the globe, Mother Monster herself, Lady Gaga, has been confirmed as the guest judge for the upcoming ninth season premiere of RuPaul's Drag Race.
Gaga announced the news to her 65 million Twitter followers on Tuesday afternoon, just two days after her electrifying Super Bowl halftime performance, and one day after announcing her highly-anticipated Joanne World Tour.
"The time has come! I'm joining the girls on the season premiere of @RuPaulsDragRace!" Gaga tweeted, adding the appropriate hashtags #DontBeADrag #JustBeAQueen (lyrics from her 2011 track "Born This Way").
Gaga, a legacy Drag Race viewer, first made her desire to appear on the show known in a 2013 tweet. "Can I PLEASE be a judge on drag race! @RuPaul I started out in these club, these women taught me how to serve!" Gaga wrote. 
Now, four years later, Ru finally found time to respond. His answer: YES!
Could this be the moment "that will go down as one of the most jaw-dropping moments in Drag Race history" hinted at in a press release from Logo? Perhaps so. You judge for yourself by the queen's (appropriate) reaction below:
Gaga joins a legacy of RPDR guest judges that includes Ariana Grande, Debbie Reynolds, Natalie Cole, Beth Ditto and Olivia Newton-John.
The upcoming season of RuPaul's Drag Race will premiere sometime this spring on Logo.