New poll shows just how personal the presidential election was for Americans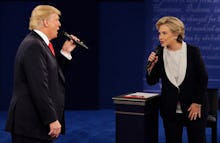 Gayle McCormick, a California prison guard, had been married to her husband for 22 years when he told her he planned to vote for Donald Trump.
"I felt like I had been fooling myself," McCormick, 73, said to Reuters. "It opened up areas between us I had not faced before. I realized how far I had gone in my life to accept things I would have never accepted when I was younger."
McCormick and her husband are now separated — and they aren't alone.
A Reuters/Ipsos poll found that the polarizing 2016 presidential election has strained — and in some cases ended — relationships between friends and family members.
Of nearly 6,500 people surveyed between Dec. 27 and Jan. 18, 16.4% said they have stopped talking to a family member or a close friend; 17.4% had blocked someone close to them on social media; and 13.4% have, like McCormick, ended a relationship with a family member or close friend because of the election.
Nearly 40% of respondents say that they've had at least one argument with a family member or close friend about the election, according to the poll.
A divisive election
Political polarization is nothing new — research has found that Americans are increasingly feeling more emotionally attached to their own party and regarding the opposing party with antipathy.
But the 2016 race seemed especially personal, and it is easy to understand why. 
Not only was one of the two major party nominees seemingly poised to shatter the glass ceiling, but the man who upset her is a serial liar, bigot and misogynist who built his campaign on personal insults and bullying. For many, opposing Trump's campaign was not just "politics" – it was about "humanity," "decency" and "morality," as a Huffington Post blogger put it. 
The election weighed on relationships between people who backed opposing candidates – and candidate preference apparently emerged as a top deal-breaker, behind smoking, among new couples dating, the New York Times reported in August. 
U.S. still divided three months later
The Reuters/Ipsos poll suggests that the wedge the election drove between Americans remains firmly in place. In fact, Reuters reported, the divide has actually worsened since November — not improved, as it has after other testy elections.
According to Reuters, the widening gap between Republicans and Democrats could further erode trust in government and make compromise more difficult.
But, Reuters reported, amid the continued Facebook fights and dinner table debates, about 21% of respondents say they have made a new friend because of the 2016 election — possibly thanks to shared support of one of the candidates.